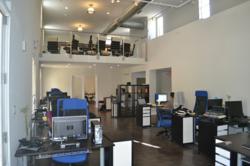 Our growth requires attracting new talent and Coral Gables offers some ideal conditions to do exactly that.
Miami, FL (PRWEB) October 11, 2012
On October 1, Optimum7 moved its Miami office from Doral to their new office in Coral Gables. The office was chosen for its increased size and convenient location. The move was necessary to accommodate the rapid growth and expected continued growth of the Internet Marketing Company.
"After recently hiring two new team members, things began to feel a bit cramped in our former office in Doral," says Duran, Co-Founder and COO. "Our company is thriving, taking on new clients as well as providing internship opportunities to local university students," continues Duran.
The move was necessitated both by growth and the vision of the two principals of company, Arthur Cooper and Duran Inci. "We expect Optimum7 to continue to gain as a true leader in Internet Marketing," claims Mr. Cooper. He adds, "our growth requires attracting new talent and Coral Gables offers some ideal conditions to do exactly that." Reactions to the new office by current employees were overwhelmingly positive. While the commute is longer than anticipated for a select few, they believe it is all worth the while.
"The new office is great! It's very spacious with a high ceiling and lots of natural light. The space really fosters teamwork, productivity and creativity which are great for the continued growth of our company," says Sonja Stein, SEO Specialist. Lisa Sherman, Copywriter, also chimed in, "I think the office is really symbolic of the direction Optimum7 is headed in, our collective and individual progress. It is a wonderful thing to watch unfold and I'm grateful to be a part of it."
Additions to the new office also include more technology and amenities for staff, such as ambient lighting, gadgets, stationary, chairs with neck and back support, a conference room, separate bathrooms for genders, personal phones and storage space, refreshments and entertainment.
Optimum7 is a highly consultative Internet Marketing Company with offices in Morristown, New Jersey and Miami, Florida. They specialize in Search Engine Optimization (SEO), Pay per Click (PPC) Management, Ecommerce and Web 2.0 Programming and Design, Social Media and Conversion Optimization, Reputation Management, and Affiliate and Email Marketing. To achieve the visibility your website deserves, contact their dedicated team of marketing professionals at 1.866.882.8484 to discover a customized solution to your Internet Marketing needs.