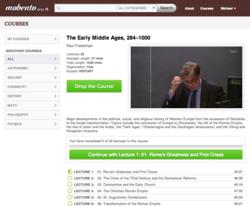 Offering courses is our next step towards creating an innovative video learning hub that will help people share knowledge more effectively through technology
(PRWEB UK) 15 October 2012
Mobento, the educational video website that introduced spoken word search technology, is introducing a new feature that will offer users the opportunity to enroll in free online video courses from leading universities and online learning content creators such as Yale, Stanford, Khan Academy and many more. Content will be targeted at both the Higher and K-12 educational levels.
The new course feature will be available from the 12th October, 2012 and will be a step forward for the website that aims to make video-based learning as simple and efficient as possible for both users and educational video content providers.
Having introduced ground-breaking spoken word search technology to video learning, the latest course feature organizes video lectures into a series.
Once signed into Mobento, users can enroll in these courses and type up their own personal notes directly onto the web page that plays the video. These personal notes are then saved and can re-called for future reference – saving users the need to use a separate application to keep notes on their videos.
Mobento will also keep track of the last video viewed by the user and prompt them to resume a course and watch the next video in the course, at a time that suits them.
Currently, Mobento offers a range of videos courses from Yale University, Stanford University, Khan Academy, TED Bozeman Science, NASA on a variety of topics from astrophysics to cryptography and Middle Age history.
The website has recently reached agreements with other selected partners on a variety of different subjects and will be offering further courses from them in the coming months.
Topic experts and content curators are also being invited to create courses based on the video content available on the website.
Speaking about this new feature, Sumner Murphy, founder of Mobento comments, "Video learning is changing the way we learn and Mobento aims to make video learning as easy as possible. Offering courses is our next step towards creating an innovative video learning hub that will help people share knowledge more effectively through technology".
Enrolling in a video course at Mobento is free. Visit http://www.mobento.com to find out further details.
Please note that Mobento is currently in public beta.