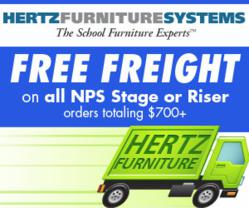 We are proud to announce our latest promotion, free shipping for NPS stage/riser orders totaling $700+...
Mahwah, NJ (PRWEB) October 11, 2012
Hertz Furniture, the premier school and office furniture supplier, has announced that orders of National Public Seating (NPS) stages or risers purchased through November 29, 2012 and totaling $700 or more will ship for free. The offer, available by phone order only, applies to standard tailgate delivery within continental USA. With an opportunity to save up to 25% on stage and riser orders, all National Public Seating products are available via Quick Ship (five-day delivery) and come with a 25-year extended warranty.
Devoted to helping choirs, musicals, and school plays receive a standing ovation, Hertz Furniture and NPS provide the backdrop for success for stage performers. To accommodate all types of performances, NPS stages and risers come in single-height or multiple stage levels, two styles (straight or tapered), and three depths (18, 36, or 48 inches deep). The full collection of stages and risers are both portable and foldable, allowing for quick setup at home or on the road.
Recognizing that schools and institutions are on a budget, NPS products are durable (supporting up to 266 lbs. per square foot) yet affordable, including transport folding choral risers. Easy to transport, set up, and put way, the three-level carpeted risers open in five easy steps, offering choruses and traveling performers savings in time, hassle, and money. For schools, organizations, and their rising stars, this spells outstanding value.
"Hertz Furniture remains committed to quality, customer service, and providing products tailored to meet each user's needs," says Hertz Furniture President Saul Wagner. "We are proud to announce our latest promotion, free shipping for NPS stage/riser orders totaling $700+, allowing us to partner with schools and institutions to help their visions come to life and their performance dreams become a reality."
About Hertz Furniture:
For over 45 years Hertz Furniture has supplied schools, religious institutions, businesses and government offices with top quality commercial furniture and superior customer service. Speedy Quotes, Quick Ship products, a wide selection of Eco-Friendly furniture, a free Project Planning and Design service and the best warranties in the industry are just a few of the ways that Hertz Furniture provides added value to its customers. For additional information on Hertz Furniture and its extensive line of products, please visit Hertz Furniture, speak to a furniture specialist at 888-802-6549, or send an email to jonathanyunger(at)hertzfurniture(dot)com.