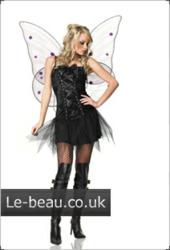 Trends for costumes change every year according to recent events in the news
(PRWEB UK) 15 October 2012
Unlike previous years, this year everyone has a firm idea of who they would like to imitate for Halloween. The turn in trends seems to be linked to celebrity news and events of this year.
This year Le-Beau, sellers of a range of Halloween costumes and Le-Beau lingerie have noticed a surge in three particular outfits, realising that these are selling faster than any other leaving the competition behind.
A recent study confirmed Le-Beaus suspicions as Patch.com detailed the findings of their survey labelling Le-Beaus bestselling adult outfits in the top ten.
Surprisingly these don't differ greatly from the most popular children's outfits of this year, although there does seem to be a gathering interest in costumes that relate to the blockbuster trilogy by EL James, the Fifty Shades of Grey.
Despite this, the Princess costume still emerges as no.1 in both categories as women and girls want to relive the moment when Prince William married his bride Kate Middleton. The children tend to choose mythical princess costumes however while the adults adore the Princess bride outfits on offer, as they combine Le Beau lingerie with royalty to add glamour to the role.
This is a lot different to last year when the Twilight saga and series such as True Blood put Vampire Costumes at the top of everyone's wish list, however it's exciting to see that the Pirates of the Caribbean still has an influence despite rumours of Johnny Depp's divorce as the pirate costume comes a close second in the adult outfit area.
The third most popular outfit this year is the Witch's costume paired with suspender tights, although when viewing the news or latest movies it's difficult to see why, Andrew Brown the owner of Le-Beau has an idea,
"The witch's costume has always been one of our bestsellers as people like to imitate the witches of Eastwick or the supernatural characters from Buffy the Vampire Slayer and the popular movie the Craft, however this year we have seen it fly off the shelves. I can only surmise it is due to the West End musical Wicked, as more people choose breaks away in the UK due to the tough economic climate."
Following on from the witch costume of course is the vampire at no.4, with the cat being no.5, this position must surely be thanks to Anne Hathaway's role in The Dark Knight Rises, and nurse outfits are a popular sixth place.
For more information visit http://www.le-beau.co.uk
Le-Beau are a quality lingerie site that offer affordable costumes and accessories with free delivery across the UK. Le-Beau.co.uk offers a wide range of exotic and sexy lingerie, fancy dress costumes, dresses, boots shoes and more, supplying clients with an exceptional standard of sexy lingerie as well as other products. We also provide you with a high standard secure online shopping experience here at Le-Beau lingerie and we are confident you will be more than satisfied with our products and services. We want you to tell your friends about us!