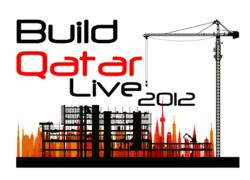 'In preparation for the 2022 World Cup, construction in Qatar is picking up the pace. Major parties are looking at BIM deployment to reduce time & costs. Build Qatar Live will demonstrate the benefits of Collaborative BIM'. Nathan Doughty, Asite COO
Qatar (PRWEB UK) 12 October 2012
Following the tremendous success of Build London Live 2012 and building on the pioneering 2008 and 2009 events; organizers Asite, AEC3 and buildingSMART MENA & India will bring a Build Live event to Qatar.
The two day virtual competition sponsored by Nemetschek Vectorworks will commence Tuesday, November 27th 2012 - noon and run through to Thursday, November 29th 2012 – noon. BIM practioners from all over the world will be invited to demonstrate their BIM expertise and collaborate in OpenBIM in the design and engineering of a project from an internationally known site in Qatar.
Tahir Sharif, President of buildingSMART MENA & India further added: 'Currently there are no projects in the Middle East being completed using Collaborative BIM as a process. We hope by bringing Build Qatar Live to the GCC, this will provide the opportunity to prove that interoperability does work. As an organization we are actively pushing for the implementation of National BIM Standards. This initiative is a step in the right direction and confirms that BIM is here to stay and that 2D processes will soon be history'.
Build Qatar Live 2012 will again redefine the standards expected from design competitions by creating the world's most collaborative Building Information Model (BIM) with combined talent from all over the world. Previous winners include BIM Academy (UK), Team Aidea (Philippines), BIM Unlimited (UK), BIM Vikings (Norway), BIM Japan, Super Team Singapore, Ryder Architecture (UK), 3D Blueprint (India), Southern Axis (Chile), University of Nebraska – Lincoln (USA), Teams BIM Education (USA) and Food for Thot (USA). buildingSMART encourages industry members in the GCC to participate in this event.
Nathan Doughty further added 'We hope to have many local teams on board from the GCC participating and showing their BIM capabilities. Many organizations in the GCC are successfully using BIM to complete projects on time and in budget'
Register for free as a participant or observer here: http://www.buildqatarlive.com/
For sponsorship opportunities please contact:
Sophie Lam, Marketing Manager Asite: slam(at)asite(dot)com
Follow @buildqatarlive and #openBIM on Twitter for live updates.
About Asite
Asite helps businesses share information and build knowledge in a secure environment in the cloud. Every day, professionals all over the world use Asite to manage their projects and supply chains collaboratively and get the information they need – when and where they need it.
About AEC3
AEC3 is an international consulting firm that combines a range of capabilities with global expertise to resolve information needs and deliver strategic solutions to the industry. AEC3 works with developers, building owners, contractors, consultants, manufacturers, software vendors and academic institutions to fit information technologies to needs.
About buildingSMART MENA & India
buildingSMART MENA & India is part of BuildingSMART International a global alliance of industry experts working towards implementing BIM [Building Information Modeling] throughout the construction industry thereby achieving high efficiencies and sustainability in the construction process.
We are a NOT FOR PROFIT organisation working with Owners, Developers, Governments, Consultants, Architects, Engineers, Project Managers, Contractors and Sub-contractors to deploy internationally recognised standards for processes and technologies. These standards improve interoperability and communication between all project stakeholders throughout the entire life cycle of a built Facility. For further information please contact operations(at)bsame(dot)org