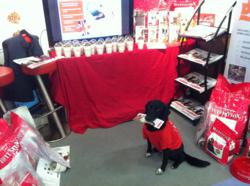 Wuffitmix wowed consumers and broke records this month
(PRWEB UK) 15 October 2012
This month Wuffitmix has seen an incredible surge in the popularity of their Wuffitmix dry dog food. Sales have risen to extraordinary heights making the family founders proud of their launched brand.
This news is even more astounding as Wuffitmix are not just a sales orientated company; instead they focus on the health and wellbeing of the dogs they feed along with the pockets of their valued customers.
Run by dedicated dog lovers, Wuffitmix understands the credit crunch and so seeks to provide affordable dog food that doesn't compromise on quality. The founders believe that every owner should be able to offer their dog a diet that improves their health and supplies them with the essential vitamins and minerals they need to enjoy their active lifestyle, from the best puppy food to grown dog food UK and beyond.
This increase in popularity is partly due to the tradeshow Wuffitmix attended in September, as they personally conversed with consumers, they bowled over the public with the information and statistics that make Wuffitmix the perfect choice for those watching the pennies.
Accompanying them at the tradeshow was one well fed Labrador cross, Friskie who charmed potential suppliers in her very own Wuffitmix T-shirt. This combined with the offer of no minimum order for stockists ensures that Wuffitmix can adorn the shelves of every pet food store for less.
Hannah Dugdale is pleased with the results, she said, "we gave out hundreds of samples and leaflets at the trade show and so far the feedback has been impressive. Many who tried the dry dog food have now made the switch as they told us that Wuffitmix not only pleased their pockets but gave visible results in their dog's health too."
Among the responses were many enquiries from kennels, groomers and rescue centres all wishing to stock the Wuffitmix range.
For more information contact Hannah(dot)Dugdale(at)Wuffitmix(dot)com or visit the website for your own free sample and information pack.
WuffitMix is a range of nutritionally complete diets for working, sporting and domestic dogs - from puppies to seniors. Wuffitmix' is owned by Dugdale Nutrition, a family run animal feed manufacturer based in the North West of England. The business dates back to 1850 and spans over 6 generations, with 2 generations currently working at the company premises in Clitheroe, Lancashire.