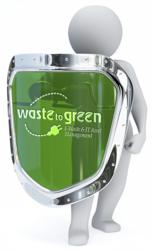 "Recycling Ewaste Responsibly with Data Security in Mind"
Durham, NC (PRWEB) October 15, 2012
The Basel Action Network (BAN), a global toxic trade watchdog organization, announced today that Durham-based Waste To Green, LLC has become a certified e-Stewards recycler. Waste to Green is the first minority and woman-owned company on the east coast to achieve the e-Stewards certification, adhering to the world's highest standards for socially and environmentally responsible electronic recycling. As an ethical electronic recycler with an uncompromising commitment to environmental sustainability, data security and the prevention of toxic e-waste from being exported to developing countries, Waste To Green has made their commitments official by obtaining the e-Stewards certification.
Waste to Green founders Amritpal Chatha and Harpreet Cheema experienced firsthand the need for truly accountable electronic recyclers. While working for a major electronics manufacturer, Chatha, who holds a master's degree in Information Security Management, saw the gap between new electronics entering the market and those being recycled at the end of their life. Chatha said, "New, improved electronics are entering the market year after year, yet there is very little accountability for those becoming obsolete."
Waste to Green President Harpreet Cheema saw the problem while working on her master's degree in Environmental Studies and studying pollution in Indian slums. "There were piles of electronics stacked up everywhere," said Cheema. "These slums were like mini electronic graveyards with young kids stripping copper wires from DVD players, broken leaded glass all over. I began to understand that those electronics made their way from the Western world under the guise of reuse and recycling. I was certain that their original owners had no idea that this was the result of their best intentions to recycle."
Hazardous e-waste is shipped every day from the United States and other developed countries to developing countries that lack the capacity to regulate these imports or to appropriately handle the waste. Two standards for electronic recyclers were developed as a means to address this and help customers indentify responsible electronic recyclers. However, only the e-Stewards Standard prohibits the export of hazardous e-waste and untested or non-working electronics to developing countries. "Companies like Waste to Green that certify to the e-Stewards Standard understand that it is the only standard that can ensure customers that their hazardous e-waste will not be exported," said Jim Puckett, BAN's Executive Director.
"The process of becoming a certified e-Stewards recycler provided powerful checkpoints around all essential electronic recycling business issues," said Cheema. "In addition to qualifying that we're sending all of our material to responsible final recovery operations, it also delved deeply into environmental, health, safety, data security and other essential business aspects. We wanted to achieve the gold standard of electronics recycling industry, which is why we are proud to be a Certified e-Stewards Recycler."
About Waste to Green
Waste To Green provides green e-waste/electronic recycling with total management of end-of-life IT assets including collection, data destruction and IT lifecycle services in North Carolina and surrounding areas. None of the e-waste it collects goes to landfills. It provides secure data destruction services including hard drive shredding and data eradication as per Department of Defense standards. Its complete life cycle IT asset management service helps businesses and individuals meet their environmental and legislative obligations for equipment disposal. It is committed to complete recovery via recycling or reuse and zero landfill of e-waste. For more information, see http://www.wastetogreen.com.
About e-Stewards® Certification
The e-Stewards Certification program, created by the Basel Action Network (BAN), formally recognizes electronics recyclers that adhere to environmentally and socially responsible practices when recovering hazardous electronic materials. It is the first such program backed by environmental organizations and major corporations alike. The accredited third-party audited certification program is supported by the USEPA and is endorsed by Greenpeace USA, the Sierra Club, the Natural Resources Defense Council (NRDC), the Electronics Take Back Coalition and 68 other environmental organizations. It has also drawn the public support of major corporate "e-Stewards Enterprises" including Alcoa, Samsung, Bank of America, Capital One Financial Corp. and Wells Fargo. For more information, see http://www.e-stewards.org.
About Basel Action Network
Founded in 1997, the Basel Action Network is a 501(c)3 charitable organization of the United States, based in Seattle, WA. BAN is the world's only organization focused on confronting the global environmental justice and economic inefficiency of toxic trade and its devastating impacts. Today BAN serves as the information clearinghouse on the subject of waste trade for journalists, academics, and the general public. Through its investigations, BAN uncovered the tragedy of hazardous electronic waste dumping in developing countries. For more information, see http://www.BAN.org.