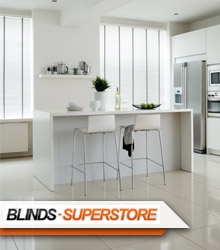 In five years this will be the only window dressing people need
(PRWEB UK) 17 October 2012
Last month the Blind Superstore took part in the UK's largest tradeshow in their area of expertise. Showcasing the new duo roller blinds they were thrilled to be chosen for the category of Most Innovative Product.
The trade show proved that this new invention is taking the designer world by storm as the advantages are miraculous and allow privacy without compromising on sunlight.
Until these blinds were invented home owners and interior designers would have no choice but to choose either outdated net curtains, clunky, one style Venetian window blinds or voile to add privacy to a window without blocking the natural sunlight. Many people would compromise using wood blinds or patterned roman roller blinds, leaving their homes exposed to passers-by during the day.
Duo roller blinds combine the benefits of voile, nets, curtains and Venetian window blinds in one product, made in such a way that they add a unique feature to any window whilst still allowing light to penetrate.
From the outside it is impossible to see into a home when the blinds are down, giving the much needed privacy home owners crave with a contemporary twist.
The Blind Superstore however have gone one step further with this product and it is because of this that they were chosen to compete in the Most Innovative Product of the Year category. They are the only company to offer wider blinds using a German system fitting more than just conventional windows and making the range available to everyone.
Their own version also coordinates the top and bottom of the blinds with a range of colours that will complement any interior décor, making them the first choice for those who seek a modern solution to dressing a window.
Ryan Gladwin the owner of Blind Superstore is not surprised by the interest he received at this year's trade fair, he says, "we were also put in the category for best small stand as the blinds are very impressive to the eye when on display. We always knew we were offering something different but the trade show has proved that this is not only a new addition to interior design but one that will make the use of nets and voile obsolete. We strongly believe the duo roller blinds will replace the need for these outdated window dressings within five years."
The Blind Superstore offers an extensive range of window dressings for the discerning consumer. Always seeking the most modern contemporary designs they import the best blinds to sell to interior designers and homeowners. The Blind Superstore also produces their own designs in house, cutting out the middle man and passing on savings to their valued customers. They stock everything from Venetian window blinds to wood blinds to the latest fashion of the duo roller blind.
For more information visit http://www.blindsuperstore.co.uk