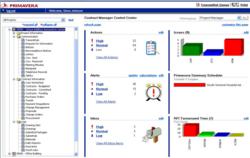 Our new Oracle Business Intelligence Publisher course expands our suite of training options to now include Primavera Contract Management
Virginia Beach, VA (PRWEB) October 16, 2012
Delivered by experts in developing reports, dashboards and integrating Oracle's Primavera Contract Management with other enterprise systems, this training class takes a student through designing, creating and publishing using BI Publisher with Primavera Contract Management.
"Oracle Business Intelligence Publisher with Primavera Contract Management is something our clients are increasingly asking us about," said Emily Foster, Director of Marketing. "We have also found clients that use both Primavera P6 EPPM and Primavera Contract Management and Ten Six now offers Business Intelligence Publisher classes for both of these enterprise tool suites. In fact, we offer a hybrid class for users implementing both Primavera P6 and Primavera Contract Management.
More details on the new class are below:
Primavera Contract Management BI Publisher Fundamentals Training for Oracle 11g (3-day class) - This course covers the fundamentals of designing and creating reports using Business Intelligence Publisher for Primavera Contract Management v14. This interactive, hands-on class with approximately 25 student exercises allows the attendees to explore and use power features in Business Intelligence Publisher. At the end of the class, attendees will be able to design, create and publish BI Publisher reports from scratch for Primavera Contract Management.
Learn more at http://www.tensixconsulting.com/bi-publisher-for-primavera-contract-management-training/
"Our new Oracle Business Intelligence Publisher course expands our suite of training options to now include Primavera Contract Management. In addition, our clients can have this class tailored to their individual needs as well as have Ten Six consultants augment their teams to accelerate their report development and implementation" says Foster.
For more details about this Primavera Contract Management BI Publisher Fundamentals Training class and other training classes offered by Ten Six Consulting, visit http://www.tensixconsulting.com/training/