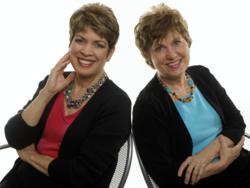 New York, NY (PRWEB) October 15, 2012
Steinway & Sons, the makers of the world's finest pianos have announced that the Kantorski-Pope Piano Duo has been named as Steinway Ensemble Artists. Valrie Kantorski of Toledo, Ohio and Ann Pope of Chattanooga, Tennessee join a distinguished international roster of Steinway Artists including Billy
Joel, Diana Krall, Harry Connick Jr, Lang Lang and past music greats such as Irving Berlin, Cole Porter and Sergei Rachmaninoff. They also share the same status with other ensembles such as the Anderson & Roe Piano Duo and The 5 Browns.
The Kantorski-Pope Piano Duo was formed in 1988 by pianists Valrie Kantorski and Ann Pope. The Duo is a three-time winner of First Prize in the Graves Duo-Piano Competition. The two-piano ensemble was awarded the Virginia E. Schrader Residency in the performing arts from the Toledo Museum of Art in conjunction with the national touring exhibition entitled Impressionism. In addition, the duo was selected for membership in the Touring Artists Program of the Ohio Arts Council. Other activities have included performances with the Toledo Symphony Orchestra, appearances on Public Radio and Television, and participation in the New Music and Arts Festival sponsored by the MidAmerican Center for Contemporary Music. The duo has recently released a recording of the Brahms Hungarian Dances on the Whaling City Sound label.
Valrie Kantorski is the pianist of the Toledo Symphony. She has performed as solo, chamber, and orchestral pianist with the Florida Philharmonic, Fort Lauderdale Symphony Orchestra, the South Florida Chamber Ensemble, the Toledo Symphony Orchestra, and the Toledo Opera. Ms. Kantorski has been on the adjunct faculties of Florida International University, the University of Miami, Florida State University and Bowling Green State University. She has performed in Europe and in venues throughout the United States, including Carnegie Hall and has recorded on Coronet, Capstone, Access, Riverview, and Whaling City Sound labels.
Ann Almond Pope resides in Chattanooga, Tennessee. She has taught piano and piano pedagogy at Bowling Green State University, University of Tennessee- Chattanooga and at Bryan College. She currently maintains a private teaching studio. Her early training was in Chattanooga, at the Cadek Conservatory of Music. While studying there, she was soloist with the Chattanooga Symphony Orchestra. Ms. Pope received the Bachelor of Music degree from the Florida State University and a Master of Music degree from Bowling Green State University. She was a keyboardist with the Toledo Symphony during the 1990's and a soloist with the Perrysburg (Ohio) Symphony. Ms. Pope is a member of ASCAP. Her arrangements of duo-piano music have been published by Belwin/Warner Bros.
About Steinway & Sons
Since 1853 Steinway pianos have set an uncompromising standard for sound, touch, beauty and investment value. Steinway remains the choice of 9 out of 10 concert artists, and it is the preferred piano of countless musicians, professional and amateur, throughout the world.
For more information, visit http://www.steinway.com and
http://kantorskipopeduo.com/