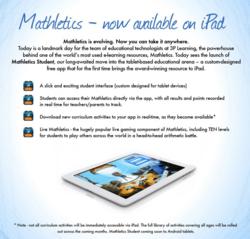 Real time. Real fun. Real improvement in student math skills.
New York, NY (PRWEB) October 11, 2012
Only 5 days to American Math Challenge & Latinoamerica Math Challenge on Oct 16 & 17, 2012. Tens of thousands of students K – 12 are practicing across the Americas from Peru to Pennsylvania! The American & LatinoAmerica Math Challenges are powered by Mathletics, the leader in online math education.
Practice Week opened Oct 8 for students to sharpen their key strokes and practice their arithmetic skills. Students may practice right up to the official start of the Challenge on Tuesday, October 16h at 8.00am EST. Go to the Mathletics website for all the details.
The 2012 Math Challenges are fully online mathematics competition. Registration is free for students K-12 at their public or private schools, home schools or as individuals. Each student receives their secure and anonymous Challenge login id and credentials by email. Leading up to the event, students will have 24/7 access to Math Challenge activities.
The Math Challenges kick off October 16 with Curriculum Mathematics, where students are challenged with 50 mathematical concepts. On October 17 students use their mental arithmetic skills to participate in 100 live Mathletics challenges. The Hall of Fame displays real time scoring for students, classes and schools according to the rules of the competition throughout both days of the event.
Winners of the Math Challenge 2012 receive a variety of prizes and recognition based on division, tops students, top classes and top schools. This year's champions will receive an iPad and the prestigious opportunity to compete internationally in the World Math Day competition in March 2013.
2012 Mathletics competitions' are proud to have two leading mathematics ambassadors: Yusnier Viera and Scott Flansburg. Mr. Viera is president and founder of Spicy Math and is holder of the Guinness World Record in calendar calculations. He most recently competed in the 2012 Mental Calculation World Cup in Germany. Mr. Flansburg The Human Calculator is the Guinness World Record holder for being the Fastest Human Calculator. Both gentlemen share their passion and skill with children and adults throughout the US and around the world. They have appeared on programs featured on CNN, The Discovery Channel, Fox and NB C to name just a few.
To schedule an interview with Mr. Flansburg or Mr. Viera please contact Andrew McKay: 610.507.1450; amcmckay12(at)gmail(dot)com