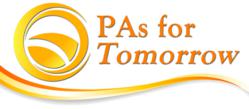 "PAs have the education, knowledge and experience necessary to handle most medical and other health care needs of patients. We have to remove barriers that prevent us from doing the best job for the patient." James Cannon, DHA, PA-C
West Chicago, IL (PRWEB) October 13, 2012
Today marks the birth of a new organization; PAs For Tomorrow. It is fitting that this new group is launching on the 45th anniversary of the beginning of PA practice in America. Representing physician assistants/physician associates (PAs), PAs For Tomorrow will strive to bring the PA profession out from the shadows and into the light, promoting PAs and providing educational resources to different groups outlining the full scope and competency of PA professionals as integral to meeting our looming healthcare needs.
Born at Duke University Medical School in 1967 as three Navy corpsmen graduated the Physician Associate Program, the PA profession today has grown to 100,000 clinicians who practice medicine in almost every medical specialty across our great country. PAs work as part of the medical care team with physicians and other healthcare professionals including nurses, pharmacists and nurse practitioners.
There are some facts PAs For Tomorrow will emphasize in its public education. Among them: PAs practice medicine, PAs are excellent clinicians and PAs have much to offer in meeting the medical needs of the United States and the delivery of healthcare to our citizens. While PAs work as part of a medical care team their name invites confusion with medical assistants and other occupations which cannot diagnose, treat and prescribe. "We need to correct that confusion and better define the words used to describe our profession," said Jim Piotrowski, PAFT President. Jim is a founder of the Association of Neurosurgical PAs and has spent his professional career in neurosurgery.
PAs For Tomorrow will also work to increase the interaction between healthcare professionals, specifically physicians, nurses, nurse practitioners and the PA profession, where for too long misunderstanding and miscommunication has been allowed to rule. "It is imperative that we all start to speak the same language," says, PAFT Vice-President Dave Mittman, a PA who has a long history of positive interaction with both physicians and nurse practitioners.
PAs For Tomorrow will also encourage research as an agent of change. We realize that all medicine has moved to "evidence based" decision making, and we will show the world how good PAs are, says Karen Fields, MSPAS, PA-C, PAFT Secretary and a PA specializing in orthopedic surgery. "As we evolve as a profession, we believe it should be with the proper evidence and research to back up our 45 year track record of providing excellent, cost effective care".
PAs For Tomorrow recognizes that there are barriers that PAs and other health professionals face that force us to duplicate services, increase healthcare costs and impede quality care. We will fight to remove those barriers. "PAs have the educational background and broad-based knowledge and experience necessary to handle most medical and other health care needs of patients. We have to start removing barriers that prevent us from doing the best job for the patient. The military has proven the value of PAs who work with autonomy in a model of team based practice" said James Cannon, DHA, PA-C, a senior military officer and member on the Board of Advisors.
Lastly, PAs for Tomorrow believes that the core of any organization is its members. "We will constantly poll our members and listen to what they tell us. Somehow that ability to listen has left the profession and we will bring that responsiveness back," said Eric Holden, PA-C, MPA, EMT-P emergency medicine specialist and PAFT Board member. "As PAs ourselves, we understand how hard it is to practice as a PA in a system that does not understand our role or capabilities. We will try to educate all to the full capabilities PAs bring to the medical care system and we promise our members we will represent them to the full extent they need," indicated Robert Blumm, PA-C, MA PAFT Treasurer, a surgical PA for almost forty years and a past President of the New York State Society of PAs (as is Mr. Mittman). While a freestanding organization, PAs For Tomorrow has also requested the status of a Special Interest Group (SIG) within the American Academy of Physician Assistants which reflect the desire of the organization to work for the benefit of the profession on all levels. In future months, PAs For Tomorrow will announce initiatives, studies, public education campaigns and other strategies aimed to increase the image, role and standing of the PA profession.
For more information on PAs for Tomorrow, please see our web site http://www.pasfortomorrow.org or contact:
Spencer Falk, President
The Falk Group
420 Lexington Ave.
NY NY 10170212-490-3255
spencer(at)thefalkgroup(dot)com