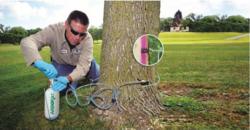 Woburn, MA (PRWEB) October 15, 2012
Homeowners in the West, take action now to protect the beautiful trees in your yards from insects, diseases, and nutrient deficiencies to ensure they remain healthy and produce beautiful foliage next year. If trees are not cared for, pests and diseases can cause serious damage, even leading to death. Mature trees that have succumbed to pests or diseases are expensive to remove and replace, potentially costing over $1,000 per tree, but when properly cared for the cost of treatment is much lower.
Homeowners in the Western regions of the country are seeing the effects of these destructive pests and tree diseases first hand, with Pine Bark Beetle invading and destroying the region's beautiful pine trees. Adult bark beetles bore tunnels in the vascular system of the tree to mate and lay eggs. When the larva enters adult stage, it bores a hole out of the tree, further devastating the transport tissue of the tree in the process. The beetles can have multiple generations in a year causing the death of impressive pine trees. The fungal disease Sudden Oak Death invites secondary insect attacks and if not treated, an oak tree cannot survive it. Leaf Chewing Caterpillars are one of the top contributors to leaf defoliation and tree death, but with treatment the caterpillars are controlled and trees regain their health and beauty.
While there are plenty of treatment options, tree trunk injections have been proven to be very effective in protecting trees from destructive insects, diseases and malnutrition. Treatment formulations are injected by a licensed applicator directly into the tree's vascular system and are effective within a few weeks. With trunk injection nothing is released into the air or soil during application. Some active ingredients keep working through the tree's vascular system into the spring, providing continued protection as trees begin to produce leaves. There is even one treatment available that protects trees against insects for up to two years and can stop damage even if the tree is currently under attack.
Professionally applied tree trunk injection treatments cost a fraction of what tree removal and replacement does while providing an added financial benefit that homeowners may not realize. In addition to creating a beautiful landscape, a mature tree provides shade, reducing energy costs for heating and cooling your home.
"We've been watching Pine Bark Beetle wreaking havoc across the country. Taking preventative measures to combat bark beetles and other harmful tree pests will ensure homeowners' trees remain healthy for seasons to come," said Russ Davis, President and COO of Arborjet, which develops remedies for some of the world's most invasive pest insects and diseases. "Mature trees also help reduce greenhouse gases and prevent water runoff, which makes saving these trees better for the environment than removing them."
To learn more about tree trunk injections and the pests, diseases, and nutrient deficiencies that may be destroying trees in your region, please visit http://www.arborjet.com.