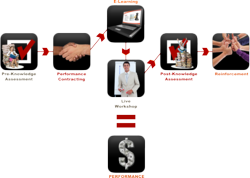 Minneapolis, MN (PRWEB) October 15, 2012
Russell Associates will be introducing TotalTrain™ Blended Learning Solutions (TTBLS) at this year's American Society of Training and Development, Twin Cities Chapter (ASTD-TCC) Regional Conference and Expo. TTBLS incorporates the Performance Breakthrough Model that integrates Poly Modal Learning to delivery unprecedented learning results.
TotalTrain™ Blended Learning Solutions uses a blended approach to learning that incorporates pre- and post-assessment to ensure participants learned the critical and need-to-know information, performance contracting that sets desired behavior change, eLearning that maximizes knowledge transfer, live learning that optimizes skill development, and reinforcement/virtual coaching that ensures ongoing focus and extends the behavior and performance change process . This has proven to be extremely effective in increasing retention and is particularly effective with Generation Y learners.
This year's ASTD-TCC Conference and Expo will be held at River Center, October 23 – 24 in St. Paul, MN. The conference is a place for top quality professional development and hands-on, world class workshops for today's learning professionals! There will be over 20 breakout sessions within the two days, with presentations by industry leaders like Franklin Covey and Jason Bickle.
For more information about TTBLS or other Russell Associates' products and services, contact Jerry Van Oort at jerry (at) intratrain (dot) com or visit http://www.intratrain.com.