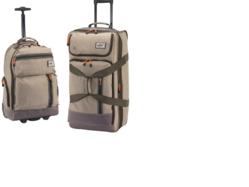 a range that is stylish and practical
Kent (PRWEB UK) 14 October 2012
The range of bags has a design that couples the smart, executive look with casual. The balance has been struck with the New Urbanite II in creating a range that is stylish and practical with an appeal that just draws the consumers to liking it. With choices such as Mega Deckers, Double Deckers, Trolley Bags, Trolley backpacks, Holdalls and Messengers bags, travelling can be a world of fun for the consumer. With such a tough durable fabric, the bags can take on the more rigorous trips even for outdoor activities.
Marketing Executive at Luggage Superstore, Trina Chee-a-kwai comments: - "Our team believes in looking around for brands and ranges that provide bags with facilities to suit all types of activities. This range oozes appeal to the outdoor traveller."
There are ample internal and external compartments to allow easy and organised packing. With the handy large zipped openings it is certainly not an issue aptly reach any internal items stored away in the bags. The bags are used with TSA padlocks with your unique combination entered on the combination lock.
Luggage Superstore established site is in West Kingsdown, Kent. Their aim is providing competitive prices of the highest quality luggage and top calibre Customer Service for online luggage shopping.
Trina Chee-a-kwai
Luggage Superstore
01474 854666
Email information