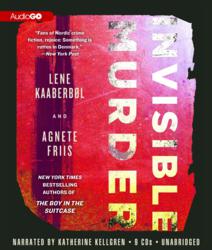 ...[INVISIBLE MURDER ] cements its authors' places near the top of the Scandinavian crime fiction pantheon.
North Kingstown, RI (PRWEB) October 30, 2012
The internationally bestselling Danish crime-writing duo Lene Kaaberbøl and Agnete Friis are back with INVISIBLE MURDER, the sophisticated follow-up to their smash debut mystery starring Red Cross nurse Nina Borg. THE BOY IN THE SUITCASE, the first book in the series, has been an international phenomenon. Translated into twenty-seven languages, it was a NEW YORK TIMES and USA TODAY bestseller, a NEW YORK TIMES Notable Crime Book of 2011, and an IndieNext Pick. It won the prestigious Harald Morgensen award for Best Danish Thriller, and was nominee for the Barry Award, the STRAND MAGAZINE Critics Award, and the Scandinavian Glass Key Award for best Nordic Crime Fiction.
Kaaberbøl and Friis are experts at creating pulse-pounding suspense as well as complex, fully drawn female characters. The NEW YORK TIMES BOOK REVIEW said of THE BOY IN THE SUITCASE, "Here's something you don't often see in Nordic noir fiction—a novel written by two women about the criminal mistreatment of women and children, compassionately told from a feminine perspective and featuring female characters you can believe in." Now, in the second novel in the acclaimed series, with her life at a crossroads, Nina puts it all on the line for the sake of refugee children. A discovery in the ruins of an abandoned Soviet military hospital in northern Hungary causes a chain reaction that threatens to blow the lives of a frightening number of people into bits and pieces.
Nina's husband, Morten, has pleaded with her not to get involved in any more dangerous projects, but Nina agrees to help her friend Peter at a camp of mysteriously ill Roma refugee children. The situation reveals itself to be much more complicated and perilous than she could have imagined, and suddenly more than her marriage is at risk. Nina has unwittingly thrown herself into a deadly nest of the unscrupulous and the desperate, and what is at stake is much more terrifying than anyone had realized.
One of the premier voices in the audiobook industry, Katherine Kellgren, who won the 2011 Audie Award for Best Female Narration, once again brings Nina to life in the second shocking installment of this bestselling trilogy. AUDIOFILE MAGAZINE raved over Kellgren's narration of THE BOY IN THE SUITCASE, which earned her an Earphones Award, stating, "Kellgren expertly depicts Danish and Lithuanian doctors, nurses, prostitutes, parents, and children… The tense story is expertly enhanced by this dazzling audio presentation." PUBLISHERS WEEKLY was also enamored of Kellgren's portrayal, claiming, "…Kellgren turns in a winning performance in this audio edition."
INVISIBLE MURDER is a sophisticated, complex thriller, and a must for fans of Scandinavian crime fiction. LIBRARY JOURNAL calls the book "a riveting follow-up…[INVISIBLE MURDER ] cements its authors' places near the top of the Scandinavian crime fiction pantheon." PUBLISHERS WEEKLY says INVISIBLE MURDER has "just the right amount of action with characterization of their flawed but empathetic heroine."
INVISIBLE MURDER:
9 CDs: 978-1-62064-049-4 • $29.95
Download: 978-1-62064-050-0 • $29.95
Listen to a clip
For digital or CD review copies, contact Amy Ciesielski via email or at 401-295-3830.
About AudioGO
AudioGO, the home of BBC Audiobooks, is a leading publisher of distinctive single-voiced and full-cast dramatized audiobooks in the United States and Canada. We are the exclusive North American distributor for BBC Audiobooks, one of the most prolific publishers of complete and unabridged audiobooks and radio dramatizations in the world today. AudioGO distributes product direct to libraries across North America and to retailers via Perseus Distribution. For more information, visit our websites: http://www.audiogo.com and http://www.audiogo-library.com.