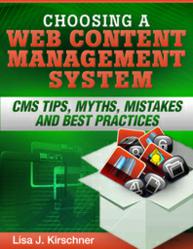 This ebook will help you save time and money when choosing a web CMS...
West Dundee, IL (PRWEB) October 11, 2012
Lisa Kirschner, the founder and managing director of Flair Interactive Services Inc., has released her new ebook, "Choosing a Web Content Management System: Tips, Myths, Mistakes and Best Practices." The ebook is available for instant download now.
This is the first in a series of ebooks to be released by Lisa Kirschner and Flair Interactive Services Inc., a web agency in the Chicagoland area. This CMS ebook describes what a content management system is, who needs one and how to choose a web CMS.
The ebook also covers the difference between enterprise-level CMS tools, mid-level CMSs and lower-end or open-source CMS tools such as Joomla, Wordpress and Drupal. It includes information about what a CMS will do and what it won't do, as well as the critical factors to consider when evaluating multiple CMS tools.
Download the ebook now to learn:
-How a web CMS can help marketing professionals, content managers and small business owners manage their web site content more easily
-Top 10 myths about web content management systems
-10 mistakes to avoid when implementing a web CMS
-Key CMS terminology
-The importance of content workflow--i.e. defining who does what with a site's content
-The average costs of a typical CMS project for different types of businesses
-How to plan a CMS project
-Tips, advice and best practices from a CMS veteran
-And much more!
"This ebook will save you time and money if you need to choose a web content management system," says Kirschner. "You'll avoid common mistakes and learn how to select and implement a CMS—such as Sharepoint, Open Text, Adobe CQ5, Joomla, Wordpress or Drupal—the right way."
Watch this video to learn more or to download the Choosing a Web Content Management System ebook now!