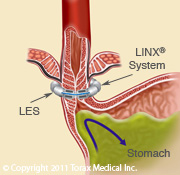 "Reflux is becoming an increasingly common complaint in all ages. In circumstances where changes to diet and treatment with medication haven't provided adequate relief of reflux symptoms, we look to alternate treatment methods."
Shelton, CT (PRWEB) October 12, 2012
Recent FDA approval of the innovative LINX® Reflux Management System has provided a new, minimally invasive treatment for people suffering from acid reflux. St. Vincent's Medical Center, located in Bridgeport, CT, is the first medical center in Connecticut to offer the LINX® System. Dr. Tim Ehrlich, a leader in minimally invasive surgeries, has been fueling the movement to incorporate the LINX® System, with a focus on creating relief for patients who are looking for a less intrusive solution for chronic reflux.
According to research performed by the University of North Carolina, 19 million people are affected by acid reflux disease each year, while upwards of 60 million people experience heartburn due to reflux once a month. Says Dr. Ehrlich, "Reflux is becoming an increasingly common complaint in all ages. In circumstances where changes to diet and treatment with medication haven't provided adequate relief of reflux symptoms, we look to alternate treatment methods."
Armed with an excellent safety profile and very high levels of patient satisfaction determined through two FDA regulated clinical trials, LINX® is a promising new treatment option for those who suffer from Gastro Esophageal Reflux Disease (GERD). The LINX® System uses a tiny string of magnetic titanium beads to augment the lower esophageal sphincter. In a study of 44 patients, no operative complications were recorded and a normal post-operative diet was allowed one day after surgery. The majority of surgical patients were able to discontinue use of anti-reflux medication within 1-2 weeks, and at 3-months after surgery, 89% of patients were off anti-reflux medications. In a four-year study of 44 patients who underwent surgery the results were equally impressive. 100% of the patients had improved quality-of-life measures for GERD.
Dr. Ehrlich has been on the forefront of bariatric advancements, performing more than 2,500 successful weight loss procedures over the course of his prestigious career. He has spent his profession pioneering non-disruptive weight-loss procedures, with a focus on improving GERD treatments. He is certified by the American Board of Surgeons (ABS) and is a Fellow of the American College of Surgeons, among other distinguished accolades.
Headquartered in Shelton, Connecticut, Dr. Timothy Ehrlich is the founder of Ehrlich Bariatrics and Director of Metabolic and Bariatric Surgery at Griffin Hospital. Dr. Ehrlich also works with patients in Southport and Shelton and has a satellite office in Waterford, Connecticut. Ehrlich Bariatrics offers free informational weight-loss surgery seminars weekly throughout Connecticut. To learn more, please call their office at 203-880-5000. Additionally, you can visit their website at http://www.ehrlichbariatrics.com or connect with them on Facebook or Twitter.