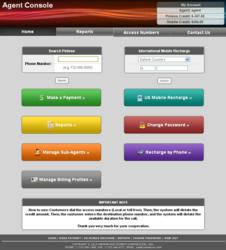 It's a completely prepaid cash business with no hassle of overdue or delayed bills.
New York, NY (PRWEB) October 18, 2012
Gift prepaid talk time to the phones of friends & family overseas! PEC Telecom's CardSaver product has been enhanced to support Mobile Top Up, a prepaid airtime transfer service as the most cost-effective, instant and secure method to refill talk time on phones of family and friends overseas.
We utilize the prepaid mobile ecosystem to transfer values in the form of international airtime remittance, directly to recipient phone device, through numerous mobile operator and distributor partnerships. Our network enables us to offer the airtime of 60 different mobile operators covering 80 countries, in varied retail distribution locations throughout North America, the European Union, and the Middle East. Our innovative services are especially valuable to immigrants who financially support their loved ones back home, allowing them to refill the airtime of their friends' and family's prepaid phones. Immigrants in many countries choose to use this service to gift minutes to their loved ones back home! Transfers are made, instantaneously in various currency values to relatives in the form of airtime minutes.
PEC Telecom is one of the fastest growing providers in emerging technologies in the telecom industry. Our Mobile Top-Up console has been developed to work with the providers of international prepaid airtime transfers through which the functions of the entire business are managed. Complete billing solutions are accessible for administrator and resellers to manage revenues and commissions.
It's an adaptable portal that can be accessed from anywhere 24 X 7. Real time statistical reports of commissions and revenues can be viewed effortlessly from anywhere. The entire program is a customizable and user-friendly console that provides access to managing billing profiles, making payments, recharging accounts, changing passwords to even managing sub agents.
Customers follow 3 simple steps to transfer prepaid airtime overseas:
Step 1: Customer provides number and $ amount to be transferred to the international number.
Step 2: Instantly, airtime is transferred to the overseas number.
Step 3: Start talking!
Guaranteed excellent rates are offered thus ensuring higher revenues. "It's a complete prepaid cash business with no hassle of overdue or delayed bills," says Ajay Tschand, CTO of PEC Telecom. A flexible convenience fee determined by each individual agent is charged on all transactions, which is added to the transaction at the process time. Additionally, a preset commission rate is set up in advance between the service providers and agents.
PEC helps to offer a service that provides a vital avenue to international connectivity through which customers can support their loved ones and colleagues instantaneously by replenishing their mobile airtime minutes from a nearby partner retailer. In regions like Central America, Asia, Latin America & Africa, where international currency transfers can be expensive and often cumbersome, it's logical to send immediate assistance in the form of prepaid mobile minutes that everyone essentially utilizes.
Mobile Top Up adds a vital new functionality to PEC Telecom's existing CardSaver which already includes Calling Card, Pinless, Call Back and Call Forwarding features.
Contact us at:
Attention: Ajay Tschand
Parwan Electronics Corporation (PEC)
1230 Highway 34
Aberdeen, New Jersey 07747 USA
Phone: 001-732-290-1900 ext. 3225
Fax: 001-732-566-8771
http://www.pecbilling.com/
Email: ajay(at)voicesaver(dot)com
# # #