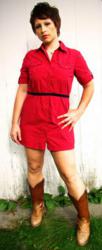 Santa Fe, New Mexico (PRWEB) October 11, 2012
Cowgirl, a must visit restaurant in Santa Fe, is in the money with blossoming pop country star Sarah Peacock coming to the stage for a 3 hour performance from 8 to 11 p.m., Wednesday, Oct. 17, 2012. Over the course of a 2012 to date this establishment has brought dozens of great music acts in each week to entertain bar patrons and restaurant diners. The evening with Sarah Peacock should prove to be extra special due to the fact that this artist is just starting to peak artistically and in popularity. SantaFe.com, Santa Fe's premier on-line visitor guide and magazine has this event featured on the company's event calendar.
Big things definitely come in small packages! Sarah Peacock is a powerhouse pop country vocalist and performer with a style reminiscent of Heart's Ann Wilson and a boot-kickin' twist of the Sugarland "country-ness." Add a hint of classic rock on the palate, throw in the fact that her songs are melodic and catchy, and you've got a star in the making! Averaging over 200 dates a year, Atlanta native, Sarah Peacock tours full time to cities all over the globe. You may have seen or heard her on Comcast, WGN, Me.TV, various FOX network stations or radio stations across the country. Her debut album, "Straight For Your Heart" was released on Maze Records in 2009, but she purchased her contract and rights to masters in March of 2011 and will re-release the project under her own label this year. Peacock has a new album that released March 29th, which is her first independently owned project. It is a live album recorded at the premier music venue, Eddie's Attic in Decatur, GA.
She has shared the stage with Barry Waldrep, Levi Lowrey, Clay Cook, and many others! Peacock grew up in a musical family. Both of her grandmothers are accomplished pianists and vocalists, and fortunately the musical gene was passed down to all the Peacock girls. One sister is a professional opera singer and the other a piano prodigy with a voice to boot! The oldest of 3 girls, Peacock began taking piano lessons at age 4 and seemed to always be performing no matter where she went. At age 7 she was making home-made stages in the closet and performing talent shows with her sisters and grade school neighborhood friends at home. Growing up, there was always a performance, at least somewhere almost every week; piano recitals, singing in the church youth band on Wednesday night, school chorus shows, high school musicals, and special choral honors programs. At age 11 Peacock picked up a guitar for the fir st time. It was her uncle's first guitar, which was cheap, badly warped and nearly impossible to play. But, that didn't stop her from muscling up and beating out the chords until her fingers bled. Every day after school she would practice and eventually proved herself worthy of owning her very own guitar. Writing song after song throughout her teenage years, the passion grew and grew. Peacock wrote what was at the time her best song yet during her senior year of high school and auditioned to perform her song at graduation. She was one of the selected few to perform for the commencement ceremony, and it's been nonstop since that day. Sarah left home later that fall at age 18 to attend Belmont University in Nashville, TN where she graduated with a commercial music degree in 2005. It was during her time at Belmont that Peacock truly honed her craft of songwriting and vocal performance. During her time at Belmont, she was one of the few students selected to perform in the annual Commercial Music Showcase- two years in a row. It was also at Belmont University where Peacock met instructor Kelly Garner, who played an instrumental role in developing her as an artist, vocalist, musician, and performer. Garner would later sign Peacock as the very first artist on her record label, Maze Records in 2008. Garner was responsible for the successful production and was the executive producer of Peacock's debut album, "Straight For Your Heart" at Big Dog Studios in Franklin, TN.
Up until the release of "Straight For Your Heart" in 2009, Peacock continued to tour part time on weekends while teaching private voice, piano, and guitar to students in both Nashville and Atlanta. She even partnered with a local Atlanta visionary to start a rock school, which would receive endorsements and support from Warner Brothers, PRS Guitars, Marshall Amplifiers, Guitar Center, Sam Ash, Comcast, local Atlanta vendors and restaurants, Atlanta radio stations, and other television networks. Peacock resigned from the rock school in May of 2009 to pursue her musical career full time, and it's been an insanely hard but insanely beautiful, wonderful, amazing, and unforgettable journey. She spent a large majority of this time frame writing, recording, and touring. Not giving up is harder than it looks sometimes, but the journey is not ending anytime soon.
Peacock continues to tirelessly tour nationally and internationally performing for anyone who will listen in any kind of venue that will have her. Her songs are heartfelt, and her personality heartwarming and genuine. She won't give up. She's a girl with a dream, a dog, a story, and her Grandaddy's '92 Volvo. 250,000 miles young, the Volvo is a faithful tour bus, carrying the Peacock and her songs to you.
About SantaFe.com:
SantaFe.com provides locals and visitors to Santa Fe alike the most current interactive platform for events, music, arts, business, dining and lifestyle. SantaFe.com is a division of Hutton Broadcasting, located at 2502 C. Camino Entrada, Santa Fe, NM 87507
Contact Information:
Scott Hutton
SantaFe.com / Hutton Broadcasting
http://www.santafe.com
(505) 471-1067 (Media inquiries only, please)
About Cowgirl:
Since 1993 the Cowgirl, which now occupies almost the entire block where it started, includes a restaurant, a billiard parlor, a commercial catering kitchen and several private party rooms. The patio is one of the most inviting summertime venues for locals and tourists alike and the Cowgirl has become a local institution.
Contact Information:
Barry Secular
Cowgirl BBQ
319 S. Guadalupe St.
Santa Fe, NM 87501
http://www.cowgirlbbq.com
(505) 982-2565