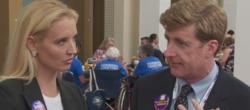 This affects everyone. But recovering people have more at stake.
Chicago, Illinois (PRWEB) October 12, 2012
Despite numbers that place substance abuse at the top of America's public health, social and criminal justice crises, neither President Obama nor challenger Mitt Romney have taken a recognizable stand on substance abuse prevention and education, access to treatment, or the myriad of healthcare, legal, social and workplace protection issues that impact recovering people.
Renew magazine tackles this national silence its upcoming November 2012 issue and current election coverage on RenewEveryDay.com. In addition to digging into both presidential candidates' addiction and recovery stances, Renew Media Editorial Director Steve Diogo speaks with recovery advocates Christopher Kennedy Lawford and William C. Moyers.
Renew magazine Editor-at-Large Laurie Dhue, who attended the Recovery Caucus meeting at the 2012 Democratic National Convention in Charlotte, N.C., on Sept. 4, also discusses the Pete Domenici Mental Health Parity and Addiction Equity Act, which requires insurance companies to provide equal coverage for mental health and addiction. It was passed in 2008, but still hasn't taken flight. In the November issue of Renew, Dhue explains to readers the details of its delay.
Currently on RenewEveryDay.com, we look at the issues that impact the recovery community by dissecting the upcoming election and who's working to shatter the stigma of addiction, protect the rights of recovering people and ensure access to quality addiction treatment for everyone who needs it.
Substance abuse is America's No. 1 public health, social and criminal justice crisis, according to data from the Office of National Drug Control Policy and The Substance Abuse and Mental Health Services Administration. More people will die this year because of substance abuse than will die from cancer, automobile accidents or terrorism. Yet, as Diogo points out, if addiction and recovery received a fraction of the funding and attention given these problems, we would consider it a major victory. This affects everyone. But recovering people have more at stake.
To read the exclusive advocacy coverage and full interviews with Lawford and Moyers, subscribe to Renew magazine at RenewEveryDay.com to receive the November 2012 issue. Also head to RenewEveryDay.com to read our exclusive feature, "Obama, Romney remain silent on substance abuse."
Written by top addiction and wellness specialists, as well as those who face the daily challenges of real-world recovery, Renew magazine and RenewEveryDay.com inspire readers to create and embrace a lifestyle of sobriety.