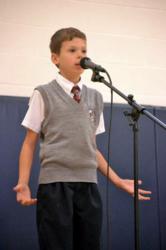 "Those kids were absolutely brilliant. They make those classics come alive again" said Mary Inman, Lemont Public Library Youth Services.
(PRWEB) October 11, 2012
Students in kindergarten through eighth grade competed in Everest Academy's Annual Poetry Recitation Contest Wednesday, October 3, 2012. As part of Everest's leadership formation and advanced academic program, students are challenged to improve their public speaking skills and appreciate fine poetry selections according to their age level and interests. Students chose their poems from a variety of classic and contemporary selections that offer character formation lessons, appreciation of language, imagination, and forms of analysis. The young speakers memorized, choreographed, and rehearsed their poems for classroom competition before two of each class winners entered the school wide contest.
Students presented their selections to a panel of five judges and the entire student body. Competition was fierce and scoring was close as the judges determined the final winners by sometimes breaking ties on the degree of difficulty or depth of expression as students recited the poems. Serving as one of the judges, Ms. Mary Inman, Youth Services Manager of the Lemont Public Library, exclaimed, "Those kids were absolutely brilliant. It was amazing that they were able to memorize such long poems and make those classics come alive again. I was quite impressed. They were fantastic! They have resuscitated the ancient art form of poetry recitation. To hear those classics presented by these youngsters was an inspiration to me."
Judging categories included: intonation, posture, hand expressions, correct posture, and sense of expression, use of voice inflections, hand gestures, and memorization. All who attended were enriched through exposure to the fine messages of the poetry selections.
Class Winners included: Kindergarten: Tommy O'Malley of Lemont performing "The Lost Hat" by Jeff Foxworthy, and Cooper Black of Homer Glen performing "Grandmas Glasses", Grade 1: Caylee Hamilton of Lemont performing "Simple Simon"; Grade 2 - Anthony Koch of Lemont performing Green Grass and Dandelions by Margaret Wise Brown; Grade 3: John Beecher of Lemont performing "Better Than Gold" by Abram Joseph Ryan; Grade 4 : John Paul Colarelli of Lockport performing "O Captain, My Captain" by Walt Whitman; Grade 5: Kate Beecher of Lemont performing "Song of Hiawatha" by Henry Wadsworth Longfellow; Grade 6: Sophia Colarelli of Lockport performing "The Highwayman" by Alfred Noyes; Grade 7: Jack Zabilka of Lemont performing "Casey at the Bat" by Ernest Lawrence Thayer; Grade 8 : Joe Colarelli of Lockport performing " Wreck of the Hesperus" by Henry Wadsworth Longfellow.
Christine Gamache, Everest Principal commented that "The Poetry Recitation Contest helps Everest students grow as public speakers. They learn to present a message clearly, confidently and enthusiastically. It also provides students with a sense of accomplishment in reciting the poetry. We are very pleased with the effort and success of our all of our contestants."
Everest Academy is an independent Roman Catholic school in Lemont educating children from pre-kindergarten through eighth grade. The teachers and staff are dedicated to forming the whole child by providing the highest level of academics, by building strong character, and by preparing generous leaders ready to serve the community. If you would like to learn more about Everest Academy's approach to education, please contact Coleen Mast at 630-243-1995 or visit http://www.everestadvantage.org.