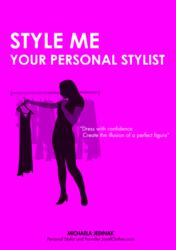 Once you adopt the principles of visual balance shared in this book you will discover how to dress your best everyday. Michaela Jedinak
(PRWEB UK) 30 October 2012
STYLE ME, Your Personal Stylist
Dress with confidence. Create the illusion of a perfect figure.
A fully illustrated book on personal style helping you discover what to wear whatever your body shape.
Michaela Jedinak, personal stylist and founder of leading personal style website , Joy of Clothes, will show you how to create the illusion of a perfect figure whatever shape you are. Once you adopt the principles of visual balance shared in this book you will dress with more confidence and look younger and slimmer.
Chapters include:
Visual Balance
The best way to make the most of your natural beauty is to create visual balance in your overall look. This chapter introduces the concept and how it can be applied whatever your body shape, age or personality.
Visual Balance and your body shape:
The problem with understanding your body shape is that most women focus on a specific area (ie problem zones such as the tummy,arms,bottom etc) This chapter will help you see the whole picture which is the starting point to creating visual balance.
Rules for body balance:
How to create body balance whatever your bust,calves,bottom or neckline.
Choosing the right pattern and fabric
It is important to know the fabric and pattern that works for your body shape, body feature and body size.
Style Lines
Style Lines allow you to create the illusion of balance and proportion.
Design Lines
Design lines can create an effective illusion of height , width, length and curves.
The issue about sizing
Why are you never the same size in different designers and retailers?
The book is available at Amazon Kindle and Apple ibookstore.£6.99
Amazon :http://www.amazon.co.uk/Style-Me-ebook/dp/B009KZYIGS/ref=sr_1_3?ie=UTF8&qid=1350651693&sr=8-3
Apple : https://itunes.apple.com/us/book/style-me/id568630904?ls=1
Follow us on http://www.facebook.com/joyofclothes http://www.twitter.com/joyofclothes, Google + and Pinterest.
About Joy of Clothes:
Joy of Clothes. Discover and buy the clothes that flatter your body shape, eye, hair and skin colour. Stylist advice on how to look your best. Create your model to see what to wear for your body shape. Buy women's clothes from all the top shops and designers. Joy of Clothes was founded by Michaela Jedinak and David Lethbridge.
Michaela Jedinak has a unique range of experience from the fashion, media and design industry in London, New York, Milan and Prague. As MD of Cosmopolitan Prague, she developed her passion for colour and style, before going on to set up her highly successful colour and style consultancy.
Michaela Jedinak
michaela (at) joyofclothes (dot) com
Mobile: 0044 780 313 9755