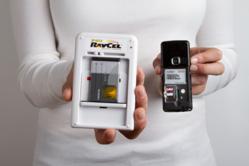 "In the move from landlines to mobile phones, the cost of extending the grid to all of the citizens of emerging markets will never be cost effective" Jigar Shah, Fast Company
Denver, Colorado (PRWEB) October 16, 2012
There are a stunning 4.5 billion mobile phone subscriptions in the developing world(1). Even more surprising, 500 million of those lack access to electricity (2). This means there are millions of people with mobile phones, but no way to charge them.
"We've heard stories of villagers traveling by foot and by boat, sometimes for days, to reach a place where they can charge their phones," said Nokero founder Steve Katsaros. "In other places, people pay exorbitant prices to have their phones charged by vendors who use diesel generators and car batteries."
Handset makers like Vodafone have started to address this by designing mobile phones with built in solar panels. However, for many people at the "bottom of the pyramid," buying a new phone is not a viable option. Fortunately, Nokero has created a solution designed by award-winning inventor Steve Katsaros for charging the phones they already own. Simple and sturdy, the RayCel Mobile Phone Battery Charger allows users to charge their battery with nothing but the power of the sun. There are no wires to break or tangle, just two moveable prongs (positive and negative) that adapt to almost any 3.7 volt removable battery. This also means users can charge their battery without exposing their entire phone to the elements.
POWERING POVERTY REDUCTION
The RayCel's simple, durable solution to alternative charging has the potential to catalyze significant economic, environmental, and social benefits:

Improving health and environment by using energy from the sun rather than from diesel or kerosene
Reducing family living expenses, freeing up capital for education and entrepreneurship
Providing small and micro-business opportunities for local vendors to sell alternative charging products
Increasing farm and food production: Individuals, agri-business, government and projects are using mobile messaging to provide agricultural guidance, market updates, and crop insurance (3)
ALTERNATIVE CHARGING = MORE REVENUE
The potential for alternative charging solutions also has the attention of telecom companies who operate in off-grid areas. Mobile phones provide remarkable commercial and social opportunities, and when off-grid subscribers are given the opportunity to increase their usage, they do just that. Telecom giant Digicel distributed 350,000 solar handset chargers throughout Papau New Guinea, Vanautu, Haiti and a few other markets. They tracked the mobile phone usage of subscribers before and after acquiring a solar charger, and the difference was an Average Revenue Per User (ARPU) increase of 13 - 15%. (4)
THINK BIG BY GOING SMALL
While the population of the world expands, basic services have failed to keep pace, but mobile phones are bucking the trend. For example, 50% of people in South Asia don't have access to clean water, but 81% have access to a mobile signal (4). Instead of waiting for cash-strapped governments to expand the grid, Nokero has solved a big problem for 500 million people with small, simple solution.
Inline Quote: http://www.fastcoexist.com/1678642/the-future-of-the-grid-is-in-the-developing-world
(1) http://mobithinking.com/mobile-marketing-tools/latest-mobile-stats/a#subscribers
(2 and in subtitle) http://www.gsma.com/mobilefordevelopment/wp-content/uploads/2012/06/GSMA_Community_Power.pdf - Page 2
(3) All Africa - Story 201106130777
(4) http://www.gsma.com/mobilefordevelopment/wp-content/uploads/2012/06/gsma_rural.pdf