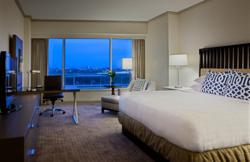 Guests will find that our new room design leaves them well rested, energized and ready to attend to important business during their stay.
Tampa, FL (PRWEB) October 11, 2012
During an economic period when many businesses are cutting back and shrinking their budgets, Grand Hyatt Tampa Bay has invested an astounding $16 million into a full revamp of its 442 guest rooms. The immense, yearlong renovation was completed this month and helps to further strengthen Grand Hyatt Tampa Bay's longstanding position as Tampa's premier luxury hotel. The new enhancements include a comprehensive redesign of all accommodation categories, including 23 luxuriously appointed suites and 45 villa-style casitas, which were given fresh, modern finishes as well as technological updates that specifically cater to upscale business travelers. The project also involved a full remodel of the outdoor terrace at the award-winning signature restaurant Armani's, which boasts stunning panoramic bay views from the hotel's 14th floor.
"The recent improvements were needed to maintain our competitive edge as a premier hotel for upscale business travelers," said General Manager Paul Joseph. "We are eager to debut our contemporary new look to both first-time visitors and loyal repeat guests, who will find the same level of service that they have come to expect from the Grand Hyatt brand."
Dallas design firm Looney & Associates was charged with transforming all 442 guest rooms to create a modern, sophisticated in-room experience. Inspired by the surf and sand, the team selected a soothing color palette of neutral tones with various shades of blue for accent pieces. A dramatic entry was created using a wood-looking porcelain floor, a large-scale patterned wall covering and sea glass-hued accents. This visually stunning entrance leads to two separate spaces: an expansive, all-new bathroom inspired by the world's best spas; and a spacious bedroom, well-appointed with dark wood furniture, rich linen textures, modern finishes and fixtures, polished chrome accents, sculptural tables and plush bedding on a luxurious Hyatt Grand Bed™.
Keeping the unique needs of today's business travelers in mind, the design team also made sure that no detail was overlooked, adding electrical outlets to bedside tables and installing a generously sized desk. The end result is a contemporary yet coastal-casual atmosphere that carefully balances business and pleasure.
"Guests will find that our new room design leaves them well rested, energized and ready to attend to important business during their stay," said Joseph. "In addition to the new luxurious accommodations, business travelers and meeting attendees will also be delighted with our world-class dining options and breathtaking natural surroundings, which round out the superior guest experience at Grand Hyatt Tampa Bay."
About Grand Hyatt Tampa Bay
Located in a 35-acre nature preserve on the northern shores of Tampa Bay, Grand Hyatt Tampa Bay is a tranquil hideaway that combines unspoiled, natural beauty with close proximity and easy access to the city's wealth of dining, shopping and entertainment offerings. Ideal for mixing business and pleasure, the AAA Four Diamond-rated, 442-room hotel is conveniently placed within the Westshore business district, just three miles from the Tampa International Airport (TPA) and 15 miles from the Gulf coast beaches.
Topping the list of the hotel's world-class features are its award-winning restaurants Armani's and Oystercatchers as well as its first-class meeting and convention facilities. Grand Hyatt Tampa Bay offers more than 20,000 square feet of function space, including 3,560 square feet of indoor pre-function space, 2,820 square feet of outdoor pre-function space and a 10,370-square-foot ballroom. The hotel also features 19 meeting rooms, including several with bay views.
For hotel information or reservations, please call Hyatt's toll free reservation line at 800-233-1234 or visit http://www.grandtampabay.hyatt.com.