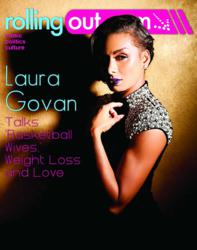 Atlanta, GA (PRWEB) October 13, 2012
Rolling out's senior writer Danielle Canada sits down with another Govan. This time, she chats with Laura Govan of VH1's "Basketball Wives LA" fame, who's quite blunt during the Manhattan photo shoot with creative director DeWayne Rogers.
Govan dishes on love, her college education, unwarranted threats and her strict diet. "I got lazy after the fourth baby. I said, 'oh well.' I got big, f— it. I'm just gonna keep it rolling," she says while having her hair styled. "I still ate like I was pregnant for a while."
"When the public constantly holds you under a microscope and critiques every imperfection, I can see how one would lose herself and begin to doubt whether or not they are in fact beautiful. My time with Laura revealed just that ... it revealed a woman who was still coming into her own–one who was still working to reclaim the self-belief that so many women lose after childbirth," says Rogers.
Munson Steed, rolling out's publisher and CEO adds, "Reality TV is equivalent to looking into a mirror. Smart stars, upon observing their reflection, modify their behavior accordingly."
Visit rollingout.com for the one-on-one interview with the former basketball coach. Be sure to check out her exclusive photo shoot and behind-the-scenes video.
ABOUT rolling out MAGAZINE/MEDIA
Rolling out, the nation's largest free urban weekly, is a digital and print magazine that focuses on the black experience in response to entertainment, politics, fashion, culture, sports and lifestyle points of interest. Headquartered in Atlanta, rolling out is positioned as the voice for the African American experience, using its newspaper as a platform in the marketplace to express urgency for education reform, and to document entrepreneurial endeavors and other relevant issues in the Diaspora. For information on rolling out, please log on to http://www.rollingout.com.