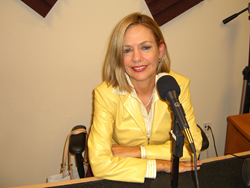 We spend time with our end users to understand how to improve our application.
Atlanta, GA (PRWEB) October 12, 2012
On October 10, 2012, co-hosts Lee Kantor and Stone Payton sat down in the studio with Ella Dyer of FashionAde. Dyer came to BusinessRadioX®'s Emerging Enterprise to talk about the evolution of her web-based application.
FashionAde's mission is to empower women by helping them confidently express their sense of style each and every time they get dressed. Dyer helped create FashionAde for a simple reason: women have all been there, standing in the closet, trying to figure out what to wear. The closet is full; many of the garments hanging there looked good on the website, in the catalog, or in the store dressing room. But now, they hang in the closet, unused. Women don't wear half of what they own.
For all the many women who regularly face this challenge, FashionAde provides practical guidance and useful suggestions, empowering, inspiring and infusing genuine style confidence for its users. The proprietary Outfit Engine helps users discover new combinations for the clothes they already own, and guides the purchase of new additions to energize and refresh the way they feel about themselves and the image they present to the world each day.
Dyer brings to the business numerous accolades, including Springboard Enterprises Alumna 2011, Venture Atlanta Showcase Company 2011, and Start Up Chicks Accelerator Winner 2010. As a Showcase Company at Venture Atlanta, Dyer was invited to pitch FashionAde on Day One of 2011's event. She explains that FashionAde began as a B2B application, but quickly moved to a B2C - Business to Community - application.
When asked by Kantor how she moved from the idea phase to the execution phase of her business, Dyer explained, "We spend time with our end users to understand how to improve our application."
Focused on serving customers, Dyer sees the opportunity to expand the concept of FashionAde to other areas where people need organization and the ability to inventory items, whether it be a kitchen pantry, arts and crafts supplies, even men's closets.
To hear more about Dyer's plans for FashionAde, please listen to a re-broadcast of this show at Emerging Enterprise.
About Emerging Enterprise Radio:
http://www.emergingenterprise.businessradiox.com
Co-hosts Lee Kantor and Stone Payton feature high-growth companies and their trusted advisors. Airs LIVE weekly on Wednesdays at 1pm Eastern.
About BusinessRadioX®:
BusinessRadioX® provides a turnkey solution for business owners who want to leverage the power of internet radio to meet their best prospects, establish credibility for their organization and heighten the placement of their brand in search engines rankings. With a professional venue and a proven formula, BusinessRadioX® helps hosts podcast their shows and create a regular stream of dynamic content to share with their prospects and feed the search engines every week. Programs are recorded and streamed live to the internet from our studios in the greater Atlanta area. For more information or to hear a live show, visit: http://www.businessradiox.com.