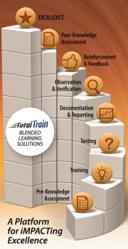 Minneapolis, MN (PRWEB) October 16, 2012
Russell Associates launched their TotalTrain™ Blended Learning Solutions (TTBLS) model for delivering training using a Poly Modal approach. Today, Russell Associates is announcing the intRAtrain™ Management Platform for Active Corporate Training (iMPACT) which is the infrastructure on which TTBLS is delivered.
This all inclusive platform incorporates seven components that guide the delivery of TotalTrain™ Blended Learning Solutions to achieving Excellence. These steps include: Pre-Knowledge Assessment; Training; Testing; Documentation and Reporting; Observation and Verification; Reinforcement and Feedback; and Post-Knowledge Assessment. Each step serves a specific purpose in ensuring learners achieve performance mastery faster and with greater motivation than traditional training.
Russell Associates will be hosting product showcases, lunch and learn sessions, and virtual demonstrations of the TotalTrain™ Blended Learning Solutions training on Making Great Decisions utilizing the iMPACT platform delivery system. Watch for opportunities to experience this revolutionary training concept. To learn more about TTBLS and iMPACT, check out http://www.intratrain.com or contact Jerry Van Oort at jerry (at) intratrain (dot) com.