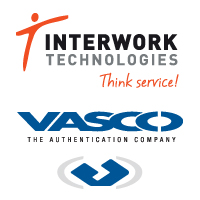 VASCO's global leadership in authentication and e-signature solutions combined with Interwork's security channel business practice presents a compelling value offering to our resellers
Toronto, ON (July 25th, 2012) (PRWEB) October 16, 2012
Interwork Technologies, Inc. (http://www.interwork.com), a North American specialty distributor of Security, Information Management, and Communications solutions, today announced a strategic agreement with VASCO Data Security International, Inc. (Nasdaq: VDSI) (http://www.vasco.com), a leading software security company specializing in authentication products.
With a dedicated focus on authentication solution, VASCO is an excellent addition to Interwork's North American Line Card. Interwork will immediately begin working with security resellers across North America looking to expand their solutions within the authentication space. With a partner network of more than 2,000 value added resellers (VARs) and solution providers, Interwork is an ideal distributor for VASCO to partner with.
"VASCO's global leadership in authentication and e-signature solutions combined with Interwork's security channel business practice presents a compelling value offering to our resellers," said Joe Graci, President and General Manager at Interwork Technologies Inc. "We are excited to offer strong security solutions to our reseller partners that are enterprise quality, yet attractively priced for the mid-market. Our resellers are demanding partnerships that will help them be more competitive and differentiated in verticals such as government, healthcare, financial services, education, & e-commerce. VASCO's Ready Channel Partner Program together with Interwork's training initiatives, will help resellers get ramped up quickly in these markets."VASCO's offers various authentication solutions to secure access to corporate networks, online accounts and applications as well as e-signature solutions to secure online transactions. VASCO's best-of-breed DIGIPASS authentication solutions are competitive, fast, easy to install, and simplify the migration from other providers to VASCO.
VASCO also offers outsourced authentication services with DIGIPASS as a Service. The offering includes a fully redundant hosted authentication back-end, the provisioning of DIGIPASS software, hardware or mobile authenticators to end-users, first line support and professional and fulfillment services. End-users can use the same DIGIPASS for multiple applications. DIGIPASS as a Service is sold in a subscription model, on a monthly or yearly basis. The service supports as few as five users with an unlimited growth of users.
In the coming months, VASCO and Interwork will coordinate and execute a joint go to market strategy to enlist new resellers to resell and deploy VASCO's strong, two-factor authentication technology for customers throughout North America. Part of this program will include local campaigns and events for resellers seeking new, innovative data encryption and security solutions to offer their customers.
We are very pleased with this strategic partnership with Interwork Technologies, "says Jan Valcke, VASCO's President and COO. "Through joint efforts, VASCO will be able to expand its reach in the North American region and solidify its position as a leader in the authentication market. We are convinced that with Interwork's experience and established network, this partnership will contribute to exciting new opportunities for both companies."
About Interwork Technologies Inc.
Interwork Technologies Inc. is a North American value-added specialty distributor of security, information management, and communications solutions, established in 1991 with field sales resources in both Canada and US. Interwork helps resellers and vendors to develop new business opportunities that will help them to grow into new markets. Interwork also serves an extensive partner network of resellers and solution providers as an advisor in emerging technologies. For more information, visit http://www.interwork.com.
About VASCO.
VASCO is a leading supplier of strong authentication and e-signature solutions and services specializing in Internet Security applications and transactions. VASCO has positioned itself as global software company for Internet Security serving a customer base of approximately 10,000 companies in more than 100 countries, including over 1,700 international financial institutions. VASCO's prime markets are the financial sector, enterprise security, e-commerce and e-government.
For more information, please visit http://www.vasco.com/.
Press Contacts:
Daniel Palmer
Marketing Manager
Interwork Technologies Inc.
+1 (800) 461-8649 x4268
danielp@interwork.com