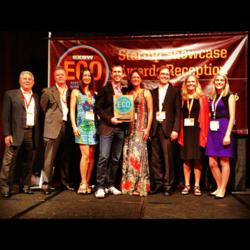 Austin, TX (PRWEB) October 12, 2012
Client of Kansas City-based startup accelerator and business incubator Think Big Partners, PlanetReuse Marketplace powered by InvenQuery, a technology company that is making awareness of and access to reclaimed building materials nationwide simple, won the SXSW Eco Startup Showcase on October 4, 2012 in Austin, Texas.
In its second year, the SXSW Eco Conference is designed for professionals in business, government, non-profits and academia who want to look at environmental and sustainability issues through a fresh lens, develop new collaborations and contribute to innovative solutions to the most pressing challenges facing the environment, the economy and civil society. The SXSW Eco Conference consisted of exhibitions, speakers, the SXSW Eco Hackathon, special events, parties and the SXSW Eco Startup Showcase, the portion that PlanetReuse Marketplace won. SXSW Eco took place just a week after The Greater Kansas City Chamber of Commerce held its annual Leadership Exchange in Austin, Texas, providing an even greater collaboration with the booming tech hub.
The SXSW Eco Startup Showcase was a one-day venture capital pitch that spotlighted innovation and entrepreneurship in the clean tech space. With over 100 applicants from around the world, only 14 had the opportunity to present a three-minute pitch to an expert panel of judges during the Startup Showcase in Austin. The finals consisted of just three clean-tech startups, PlanetReuse Marketplace, NuMat Technologies and Zeta Communities, each presenting an eight-minute pitch to the same expert panel of judges. The three startups were critiqued on product/service, industry/market validation, sustainability/social responsibility impact, business model, team and presentation. At the final awards presentation, PlanetReuse Marketplace was named the first-ever winner of the SXSW Eco Startup Showcase.
"Winning the Startup Showcase increases our credibility," said Nathan Benjamin, founder and partner of PlanetReuse. "It gives us recognition among our peers in the sustainability community and acts as a reputation-builder as we continue to spread the word about reuse, increase awareness and raise capital."
Judges for the SXSW Eco Startup Showcase consisted of partners from a variety of venture capital firms including Kleiner Perkins Caufield & Byers, Intel Corporation, Black Coral Capital, Austin Ventures, and Nth Power, providing probing questions to all semi-finalists about their business strategies and exposure to potential funding opportunities.
"Nathan and Willow have a great story," said Mitchell Jacobson, director of the ATI Clean Energy Incubator and mentor/pitch coach to the PlanetReuse team. "They were up against some pretty complex companies. But PlanetReuse's SaaS model is simple. They did a great job of explaining the size of the market. Plus, no one else is doing this!"
"This award—from a panel of judges sophisticated about both clean tech and business investment— further validates our concept and market traction," said Willow Lundgren, chief strategy officer for PlanetReuse Marketplace. "We've enjoyed great momentum this year."
In addition to its big win at SXSW Eco, PlanetReuse Marketplace began beta testing its technology in two reuse centers in Kansas City, MO this summer and continues to connect with reuse centers around the country. The company is actively raising Series A funding, and has earned national recognition: a grant from the Chase/LivingSocial Mission: Small Business Program, a featured Social Enterprise in Bloomberg Businessweek, and success at Sustainable Brands 2012 innovation competition.
"This new [SWXS Eco] competition gives a first place prize of exposure and pride," explains Jacobson. "PlanetReuse Marketplace has been recognized as the best company out of 100 other applicants and that means a lot. They can lean on this for further funding in the VC and clean-tech space. There's a lot of work to be done, but PlanetReuse Marketplace can certainly use this win to its benefit."
About PlanetReuse Marketplace:
PlanetReuse Marketplace is a technology platform that allows customers to locate, view, share and eventually buy inventory from the roughly 1,200 for-profit and non-profit reuse centers in the U.S. that sell used and surplus materials at 40-60% off the price of new. Reuse centers populate the site with their inventories via the proprietary technology, InvenQuery, which uses a mobile phone application to instantly—and in a single work-flow—post new inventory online upon intake and remove it at point-of-sale.
PlanetReuse Marketplace's platform and services allow historic homeowners, contractors, rental property owners, do-it-yourselfers, and a growing portion of the $200 billion Lifestyle of Health and Sustainability (LOHAS) U.S. market, to browse reuse centers online and purchase reclaimed materials as easy as buying new building materials at Home Depot or Lowe's.
# # #