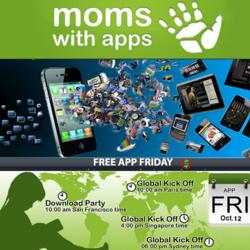 FREE APP FRIDAY
(PRWEB) October 12, 2012
October 12th is FREE App Friday and MyMathBook HD will be available to the public for free all day. Since the release of MyMathBook 2.0, Innolance has decided that MomsWithApps will host our App Friday.
Free App Friday will be a 24 hour event where MyMathBook HD 2.0 will be available for free to the public. MomsWithApps is going to host their event, App Friday and feature MyMathBook this week. Every Friday is App Friday and MomsWithApps helps promote new exciting apps. They give reviews and talk about new app products. It's a great way to gain publicity and to promote your app.
In the new version of MyMathBook there are many new features, which is why Innolance is proud to release this app for free this Friday. The app is for kids and they will get the same great quality as before, but with more exciting features. A new feature of MyMathBook is the shapes. There are a couple new shape options to choose from. One is choosing the correct shapes. It will give you a name of shape and kids will have to pick all of the correct shapes out of the bunch of other shapes to move on. Another feature will be a quiz for addition and subtraction. Depending on how well you do, will determine how many gold stars you receive.
With these new features and more we hope to engage every child in learning. MyMathBook is a great education app for Pre-School and Kindergarten ages. It will help them to better understand the fundamentals of math while having fun. MyMathBook is available in the app store.
Innolance is an IT service oriented corporation based in the Washington D.C. area that is dedicated to offering Innovative Technology solutions to our customers. Our company focuses on Mobile and Web Application Development as well as Quality Assurance for various verticals. As a company, we strive to be the leader in our industry by providing our customers with the most dynamic and unique business services available in today's market.