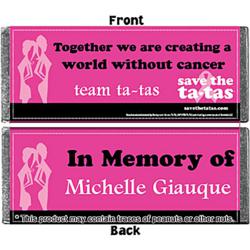 South Whitley, Indiana (PRWEB) October 11, 2012
Since 2008, the Save the ta-tas® Foundation has donated more than $850,000 towards battling cancer at every stage by supporting break- through breast cancer research . By partnering with Shindigz, the two organizations hope to promote breast cancer awareness.
October is Breast Cancer Awareness Month, and once again, Shindigz, a national, online party supply retailer, is teaming up with Save the ta-tas to raise funds to fight cancer. Shindigz offers a unique array of pink and personalized party supplies, with a percentage of the sale of these products going to Save the ta-tas Foundation.
"With personalized breast cancer awareness products, spreading the message has never been easier," says Jacquie Downey, Director of Sales and Marketing at Shindigz. "Our partnership with Save the ta-tas is huge because it raises funds for research and makes it easy for people around the globe to draw attention to such an important cause."
Besides banners, water bottles, candy bars, and other personalized decorations and favors, the party-supply experts at Shindigz went far beyond the normal pink ribbon decorations and wearable favors. Items like pink leis, jewel tattoos, and even a Breast Cancer Survivor Sash are favors that cancer fundraiser organizers can give to participants. Julia Fikse, ta-tas' founder says, "Whether someone is hosting a fundraising event in honor of a loved one, walking with a team to support breast cancer research, or celebrating any meaningful occasion, Save the ta-tas® can now be part of every event with Shindigz's customizable products and everyone can feel good that just by making a purchase, they are giving back as well."
About Save the ta-tas® and Shindigz
Manufactured and distributed by Shindigz under license, TA-TAS, SAVE THE TA-TAS, and related logos are trademarks of Hawkwild, LLC.
Julia Fikse started Save the ta-tas in 2004 to fight cancer with laughter and passion. Fikse's unique vision for raising awareness and funding research led to a partnership with Shindigz, a leading, national, online party supply retailer. Save the ta-tas donates more than 40% of its profits from ta-tas products to the Save the ta-tas® Foundation which funds independent research, college scholarship programs and more.
Family-owned, Shindigz is located in South Whitley, Indiana and sells more than 36,000 unique party products, including lots of products specifically for breast cancer awareness events.