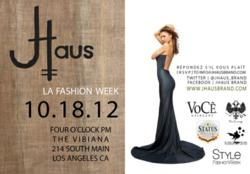 Los Angeles, CA (PRWEB) October 11, 2012
JHaus has been selected to show in Style Fashion Week LA in downtown Los Angeles. Style Fashion Week LA is from October 15th-19th, 2012. The event will be held at Vibiana and JHaus' runway show takes place on Thursday October 18th at 4 p.m.
JHaus is a premium American-made denim collection inspired by strong American roots. JHaus offers 6 jean styles in a variety of washes. Each jean is named after a member of designer JLynn Hausmann's family as an homage to tradition. The collection also offers tops and jackets.
JLynn's work has been gaining momentum after JHaus' participation in the Fashion Group International Designer & Muse event during last season's Los Angeles Fashion Week. Hausmann designed a red carpet denim gown trimmed in chicken wire, which was worn by model Jody Carlson. Deidre Crawford, Technology Editor of the Fashion Industries Guild, lauded JLynn's work in California Apparel News, saying, "One of the most innovative creations of the night was a backless stretch-denim dress adorned with chicken wire."
JHaus' collection will be shown at 4 p.m. on Thursday, October 18th, 2012 at Vibiana in downtown Los Angeles. Designer JLynn Hausmann will be available for press meetings and interviews before and after the show. Please contact Melrose PR to schedule.
ABOUT JHAUS
JHaus was founded in 2011 by designer JLynn Hausmann, based out of California, but with roots in the Heartland. The line is known for it's less is more mentality and great fit. JHaus is an American made premium denim collection inspired by authentic American roots. For more information please visit http://www.jhausbrand.com.
For up-to-the-minute news from JHaus, follow them on twitter @jhaus_brand, and Facebook at https://www.facebook.com/JHausBrand.
ABOUT STYLE FASHION WEEK L.A.
Style Fashion Week is the newest and most ambitious fashion week to emerge from Los Angeles. The week of events consist of a welcome party for VIP and Media, followed by five days of runway shows. Initially regarded as the new kids on the block, Style Fashion Week LA has made a global impact on the fashion scene by presenting fashion in new ways, merging interior design with fashion design, and giving Los Angeles based designers a world-class platform to showcase their collections. SFW represents the diverse culture that embodies the people of L.A., making the City of Angels a fashion hub, and being a leader in the world's fashion community where it belongs. http://stylefashionweek.com/
Media Contact: Jenn Deese, Melrose PR, jenn(at)melrosepr(dot)com, 310-450-7960, http://www.melrosepr.com