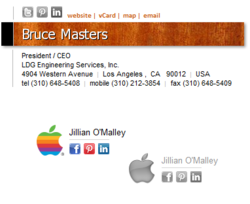 Lake Mills, Wi (PRWEB) October 15, 2012
With Apple's release of their iOS6 mobile operating system, HTML email signatures can finally be installed on iPhones and iPads. To facilitate the creation of attractive personalized email signatures for Apple mobile devices, as well as computers, DigiTechBRANDING has introduced an easy-to-use online service. The email signature designs range from simple social media icons all the way up to full-featured email signatures including uploaded photos, website links, complete contact information, downloadable vCards, map links and confidentiality statements. The signatures are free and no user registration is required.
The process of creating a signature using this service begins by selecting a design from the online gallery. The signature information is then entered into a form and the finished signature is immediately displayed in a browser window. From there it gets copied and pasted into the user's email program. The entire process usually takes less than ten minutes and easy-to-follow instructions are provided.
The online signature creation tool developed by DigiTechBRANDING is straightforward and requires no learning curve. Company founder Rex Weston explains, "We've been doing this for 13 years and know what people want - simplicity, a moderate degree of flexibility, and visually attractive signature designs. We want people to come away happy, with a great-looking and functional email signature, and they do."
The collection of free email signatures is available at http://www.digitechbranding.com/pages/free-email-signature.html or by visiting DigiTechBRANDING.com and clicking on the "Free Signature" menu option at the top.
About DigiTechBRANDING
Based in Lake Mills, Wisconsin, DigiTechBRANDING has focused for 13 years on the evolving email signature needs of businesses of all sizes. The creativity, experience and integrity of its team, backed up by its proprietary online signature-creation engine, make DigiTechBRANDING a leader in the evolution of email branding techniques. For more information, please visit http://www.digitechbranding.com