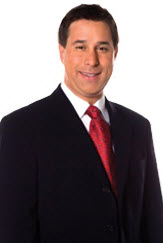 Every driver there needs to know how to protect themselves.
Manatee, FL (PRWEB) October 12, 2012
When 47 vehicles jumbled together in a massive, multi-lane car crash Friday afternoon, escaping the wreckage and treating wounds may have been the first thought on many victims' minds. Florida Injury Attorney, Michael S. Steinger says that once the debris is cleared and the hospital bills are in the mail, many minds will turn to blame.
The accident happened shortly after 3:00, leaving the southbound side of Interstate 75 effectively closed for six hours reported NBC Washington. Drivers racing home for their weekend were met with an increasingly heavy downpour of rain, leading some to slow down, pull off or stop with limited visibility. What began with one or two minor collisions toward the front quickly snowballed into car-flattening wrecks at the back. 52 people were injured.
"Every driver there needs to know how to protect themselves," Steinger said. "We'll probably never know what caused the initial collision, but anyone can point the finger at the driver next to them or in front of them. Even if you did nothing wrong, fighting a lawsuit could cost you thousands."
Steinger says that victims at the scene of an accident will often apologize to other drivers out of shock, even if they did nothing wrong. He warns that this kind of goodwill gesture can be costly.
"It's important not to over-share at the scene of an accident," Steinger said. "Give people the insurance contact information they need, with no commentary. Get their names, and make a record of everything you remember as soon as you can."
Even after the accident, Steinger says those involved will need to be careful.
"If you assure everyone on Facebook that you're just fine, that could be used in court to deny you compensation for injuries. Insurance companies will use anything they can find. Even if you walked away unscratched… see how you feel two days later."
Of those injured, 22 were transported immediately to hospitals and at least one needed surgery. No fatalities have been reported.
About Michael Steinger:
Florida Injury Attorney, Michael S. Steinger is a founding partner of Steinger, Iscoe & Green. Focusing his practice largely on car accidents, Steinger has successfully helped numerous clients receive compensation for their injuries. He can be contacted at 800-560-5059.