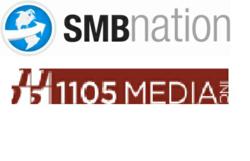 We envision this event as being one of the main channel-oriented conferences produced in the U.S. where channel partners can come together to network, engage with each other and learn.
Las Vegas, NV (PRWEB) October 12, 2012
SMB Nation announced today that it is heading into an exciting new direction planned for its 2013 Fall Conference. As noted during Chairman and Founder Harry Brelsford's keynote speech this morning at the 2012 Fall Conference, SMB Nation has teamed with Redmond Channel Partner magazine (1105 Media; http://www.rcpmag.com) to create a balanced SMB conference with significant emphasis on the mid-sized (M) partner.
The event, which is set to occur Oct. 10-12, 2013, will provide the same quality educational programming and exhibit hall time that attendees are accustomed to. However, going forward, this new synergy between SMB Nation and 1105 Media (Redmond Channel Partner magazine) will offer an enhanced and improved event. It will include a new blend of the traditional SMB Nation "tribe" member attendees with Redmond Channel Partner's audience of the "M" demographic.
While SMB Nation is known for its Spring Conference and Fall Conference events each year, 1105 Media is no stranger to the events business either; the company has produced events such as VS Live, Techmentor and others. Now, through its synergistic relationship with SMB Nation, Redmond Channel Partner, will join its sister publications with its own live niche event.
"The opportunity for synergy is amazing between our respective organizations. Combined with the transformational period in technology we are witnessing, and you have a truly amazing event coming next year," shared Harry Brelsford, Founder and Chairman, SMB Nation. "We can take the community forward on a 'flight to quality' where top performers will capitalize on future opportunities such as hybrid and cloud computing. Needless to say, we're thrilled to team with our friends at 1105 to improve our show in what will be its 11th anniversary!"
"Having known and worked with Harry in various ways over the past 15 years, it is fair to say that this new expanded relationship is one we are very excited about. The Redmond Channel Partner magazine content team, led by RCP Editor in Chief Scott Bekker, will provide dynamic and up-market sessions that will appeal to a broad group of larger partners, giving the SMB Nation Event an end-to-end reach covering the full spectrum of the most important issues and topics faced by small to midsize businesses. We envision this event as being one of the main channel-oriented conferences produced in the U.S. where channel partners can come together to network, engage with each other and learn," said Henry Allain, President of the 1105 Enterprise Computing Group.
About SMB Nation
SMB Nation is a media integration and events community, targeted at the small and medium business (SMB) channel partner/reseller/consulting/VAR community. SMB Nation spreads the knowledge of SMB technology trends through its conferences, books, print magazine, online services, and worldwide seminars, workshops and accredited Pocket MBA certificate (an academic partnership with Aspen University). As an active participant in the technology community, SMB Nation has a long history of enthusiastic advocacy and evangelism. The SMB Nation tribe exceeds 54,000 followers worldwide. For more information, visit http://www.SMBNation.com, http://www.CloudNation.co and http://www.Telephonation.com. Follow us on Twitter @SMBNation, and join our Facebook page at: http://www.facebook.com/SMBNation.
About 1105 Media Inc.
1105 Media, Inc. delivers information through print and online magazines, journals and newsletters; seminars, conferences and trade shows; and Web-based services. 1105 Media, Inc. is based in Chatsworth, Calif., and was formed in April 2006 by Nautic Partners, LLC, Alta Communications and President and CEO Neal Vitale.