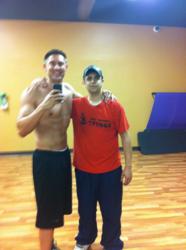 "Troy did all the work himself. I was there to help show him how." Scott Tischler
Monroe, Wisconsin (PRWEB) October 11, 2012
Scott Tischler and Troy Tischler announce they are writing a book that helps those who are victims of obesity. Scott recently helped Troy lose 160 lbs of fat through diet and exercise. Scott and Troy want to share their secrets of weight loss with the world. The book will help those who are victims of obesity over come the trials of weight loss and continued proper weight management.
Troy Tischler said he was experiencing chest pains, shortness of breath, fatigue, and depression while being over weight. Most people who are overweight experience similar symptoms but do not realize that its associated with obesity, they believe it comes with age and accept that life style. Troy wanted to lose the weight and keep it off in order to become a healthy and happy person again.
The book will cover work outs, nutrition, the habit cycle, psychological effects of obesity, and success stories of others that Troy Tischler and Scott Tischler have helped achieve their weight loss goals. The book will also teach individuals to not only lose the weight, but how to keep it off permanently and live a healthy and happy life style.
One of the secrets to weight loss, that the book will teach, is less cardio and higher heart. Most people spend countless hours on treadmills and recumbent bicycles with little to no results. With Scott Tischler and Troy Tischler's cardio secrets, the weight will melt off in weeks. Troy lost 18 pounds in his first week following Scott Tischler's diet and cardio secrets. The secret is heart rate management and knowing when to take breaks.