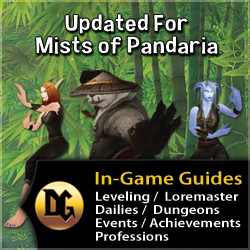 (PRWEB) October 11, 2012
Dugi's Ultimate WoW Guide has long been one of the most popular World of Warcraft leveling guides among Mages (and all classes) and now that it is updated for Mists of Pandaria, players are lining up to get their hands on it.
Mists of Pandaria has raised the level cap from 85 to 90, but players should be aware that there are actually two new areas. The first is islands which are for new Pandaren players of all classes and are not actually in Pandaria. Players do not make it to Pandaria until level 85 when they can play in the new high level zones. With the release of their new update, Dugi's Guide now includes both the Mists of Pandaria areas for new Pandaren as well as the new level 85-90 areas.
Dugi's Wow Mage leveling guide works well for all classes, though Mages have found it to be quite effective for their class as well. The reason this guide works so well compared to traditional guides is that it is installed on the player's computer and then helps guide them through the game while they are playing it. Dugi's Guide draws arrows on the screen to direct players where to go; there is no need to read sets of cumbersome instructions.
One of the most popular features however of the new Dugi's Guide update is the inclusion of separate difficulty levels. There are many players out there who want to level up Pandaren alts and already have full sets of heirloom gear for these characters. Players with access to this kind of equipment are actually capable of faster questing paths since they can complete quests several levels higher than their current level, whereas new players would find these quests too difficult.
Dugi's WoW leveling guide fixes this problem with its new difficulty mode settings. New players can use the regular settings whereas players with some heirloom gear can use the medium setting and fully tricked out players can use the hard setting. The hard setting. This lets players who have worked hard to get heirloom gear take advantage of it when it comes to leveling speed.