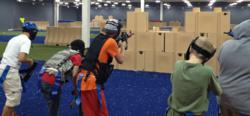 Atlanta, GA (PRWEB) October 11, 2012
Airsoft Atlanta is proud to announce the opening of AirSport at Sugarloaf Mills this Saturday, October 13th. AirSport totals 24,000 square feet, including an indoor sports turf playing field, a retail pro-shop, and airsoft gun rentals. Traditional airsoft is a sport that uses safe replica 6mm plastic BB firearms to simulate combat. AirSport takes traditional airsoft, and combines it with dodgeball, soccer, and flag football. Players score points a variety of different ways, by eliminating their opponents with their airsoft gun, scoring a goal with an AirSport ball, capturing the flag, and more.
The AirSport airsoft field is huge, safe, and has an athletic goal in mind for its players. The flooring is arena-grade turf grass, so players are safe to run, dive, and slide across the turf field. For barriers and obstacles, AirSport uses new modular blocks that are the same the US military uses for training. The modular setup allows AirSport's airsoft field to be ever changing, and can be rearranged on the fly for any specific event.
Sponsorship from Airsoft Atlanta, along with a host of other airsoft manufacturers, is supporting the grand opening of the field this Saturday. The event is also being fully catered with food, free game play, and a bunch of prizes to be given away. This will be one of the largest airsoft events in Atlanta this year. Free guns to be given away by companies like Echo 1, KWA, TSD, Tokyo Marui, and tons of airsoft accessories too.
AirSport is located at Sugarloaf Mills, right off I-85, north of Atlanta. The closest entrance is near Burlington Coat Factory. The field hours are 10am - 9pm, with raffle prizes being given away from 12pm - 6pm this Saturday only.
Airsoft Atlanta is a highly experienced pro-shop company that offers airsoft guns and ammunition to government agencies and consumer players of the sport. Their website offers a selection of guns and expertise that is perfect for any budget. Attention and care are given to all orders and recommendations based on past experiences for airsoft usage. Airsoft Atlanta is the leader in online airsoft sales, with a large showroom in Georgia, and a website specializing in airsoft parts, airsoft guns, and tactical gear.