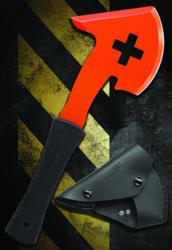 The Firefighter's Battle Axe was developed with the assistance of real firefighters to be an effective multi-use extraction tool.
Buffalo, NY (PRWEB) October 12, 2012
Lansky Sharpeners, a world leader in innovative sharpening system technology, adds another landmark to their ever expanding product line with the release the new Firefighter's Battle Axe. The Firefighter's Battle Axe was designed by Lansky Knife & Tool along with the close advisement of numerous Professional Firefighters. Developed to act as a Firefighter's "sidearm" this axe presents several multifunctional developments and tools that make this axe a prime choice for Professional and Volunteer Firefighters alike.
Part of the Firefighter Battle Axe's appeal is its multiple capabilities. Just some of the features include a full axe blade, an impact tool as well as a pry bar. This allows Firefighter's to carry multiple tools in one to handle a variety of tasks and challenges as they arise. Firefighter's will be able to cut down doors, immediately pry off door jams and trim and lever away any dangerous material that may get in their way such as drywall and ceiling panels. Adding to its multifunctional capabilities the Firefighter's Battle Axe includes a 2-way Gas Valve Wrench, a Hose wrench and an insulated handle that can protect the user from 10,000 Volts of live electricity. With the combination of these six essential firefighting tools it is clear that this axe was carefully designed specifically to assist is safe, rapid and efficient extraction of people and property from fires.
The axe was developed to be a light, rugged and easy to carry tool. Constructed of 1075 Tool Steel, the Firefighter's Battle axe can handle serious abuse. Whether the axe is used to chop down doors, used as a pry bar in a pinch, or to shut off a dangerous gas leak, the quality tool steel construction will hold up under any variety of circumstances. The weight and portability of the Firefighter's Axe was developed specifically to assist in high stress quick reaction setting. The Axe comes in at a length of 15.25" and a weight of 1.8lbs. The reasonable size, weight and ergonomic design make this tool an ideal companion for Firefighters and Emergency workers worldwide. Small enough to carry comfortably and tough enough to handle any rescue scenario, the Lansky Firefighter's Battle Axe is ready to aid in saving people's lives worldwide.
About the company:
Lansky Sharpeners is the most recognized name in knife-sharpening worldwide. In addition to their legendary Controlled-Angle Sharpener System, they continue to develop new sharpening technologies and innovations for hunting and outdoor sports, kitchen use, as well as the workshop. They are known for their hunting knife sharpeners and precision sharpening kits. Visit their Online Store to view their ever-expanding line of great sharpening products. For more information visit their website at http://www.lansky.com.