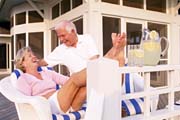 pursuing all options is the only way to know that a pensioner and his family are not being shortchanged
Grand Blanc, MI (PRWEB) October 16, 2012
Ford retirees affected by the current buyout proposal were given the opportunity to attend a financial and tax education event hosted by Deloitte Consulting as a primer for making their pension buyout decision. One recent visit to the Barnett Financial & Tax office in Grand Blanc, MI had one client shaking his head over what he'd learned from his Deloitte Consulting appointment. "I left Deloitte convinced I should continue my pension" the client said "I now have no doubt that the buyout is what's in mine and my family's best interest." While taking the buyout was best for this individual, it may not be in all cases. But it certainly illustrates that pursuing all options is the only way to know that a pensioner and his family are not being shortchanged from a retirement preparation standpoint.
In the aforementioned case the client and former Ford employee would have continued the standard Ford pension based on the information garnered from the Deloitte Consultation. Because the advisors at Barnett Financial & Tax are retirement experts, catering specifically to individuals at or near retirement, they were able to look at the numbers from a different perspective. Barnett's experience was a key in asking the right questions in order to find out the client's retirement preparation priorities. Knowing that this individual's goals were to; keep what he had, draw an income from it and pass the remainder to his heirs, allowed Barnett to carefully analyze the numbers and discern the best way to meet these specific needs. The proprietary system Barnett used to break down the details of the offer will now allow this client to continue receiving the same monthly income, 100% continuation of the income for his spouse (should he die first) and he will be able to leave several hundred thousand dollars to his children upon his and his wife's passing. This scenario would have been impossible had he not sought expert advice and merely continued his pension.
When it comes to filtering through the details of a pension buyout offer the safety of status quo may seem quite appealing. The urge to follow in the footsteps of a co-worker who was a smart guy or another who was good with money may also come into consideration. But, keep in mind that it is ill-advised to take a one size fits all approach to retirement preparedness. What might be the right choice for them may not be right for others. Each individual has a unique set of circumstances that might include a spouse, other investments, life insurance, a dependent child, a mortgage and a myriad of other considerations. The only way to know if you are making the right decision regarding your Ford pension buyout offer is to seek the advice of an expert. Barnett Financial & Tax has been a trusted advisory firm for over 20 years with the background required to make solid recommendations on all your retirement concerns.
About Barnett Financial & Tax
Barnett Financial & Tax, Located in Grand Blanc, Michigan provides a team of highly qualified professionals, with backgrounds in Tax, Estate & Elder Law, accounting, and financial planning, who provide complete financial services for their clients. Further information about Barnett Financial & Tax can be found at http://www.BarnettMRPG.com.
About Rick Barnett
Richard A. Barnett is a Financial Planner with Designations as Certified Estate Planning Professional (CEPP), Christian Financial Consultant & Advisor (CFCA) and has a Master of Estate Planning (MEP).
Mr. Barnett has been quoted for the past 20 years in the Flint Journal, the Grand Blanc View and has had appearances as a financial authority on local channels WJRT TV-12, WNEM TV-5 and WEYI TV-25. Rick can be heard weekly as host of the "Barnett Financial Hour" Thursday mornings at 8am eastern time on Supertalk 1570am or streaming live at http://www.supertalk1570.com. Also Mr. Barnett has been asked to speak on various topics of tax, investments, estate planning, etc from General Motors, Delphi, Genesee County, Hurley & Genesys Medical Centers, Michigan Association of Christian Schools as well as dozens of other Corporations, Unions, Churches and Associations.