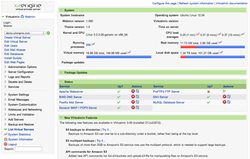 "With X2VPS, CRM systems administrators have complete control of their virtual private servers running open standards based server operating systems."

-John Roberts, Founder & CEO
Santa Cruz, CA (PRWEB) October 16, 2012
X2CRM today announced the introduction of X2CRM Virtual Private Server Edition, a next generation software as a service sales management application and hosting platform. X2VPS is a specialized virtual private server that combines the power of a fully managed server with the ease of use of a cloud based CRM system.
In addition to X2CRM 2.0's sales force management capabilities, X2VPS gives system administrators full control of virtual CentOS or Ubuntu powered cloud server. Designed for speed and flexibility, X2VPS incorporates a purpose built, compact design eliminating the black box, hotel style hosting approaches used by older monolithic CRM systems, and thus gives system administrators the power of a modern virtual server without the cost of hardware and a datacenter.
"With X2VPS, CRM systems administrators have complete control of their virtual private servers running open standards based server operating systems," said John Roberts, founder of X2CRM. "Why lock yourself into monolithic, hotel style CRM hosting platforms that were invented decades ago, when you can have the power and control of your very own virtual private server and for at a fraction of the cost."
X2CRM Virtual Private Server Key Features:
X2CRM 2.0 - Customer Relationship Management
Virtualmin Server Admin Control Panel
Shell/SSH Access
FTP Accounts
Apache / PHP
MySQL Databases
Daily, Weekly Remote Backups
Subdomains
AWStats Server Statistics Tool
Monthly Billing
About X2CRM
X2CRM of Santa Cruz, California, was founded in 2011 by John Roberts, a SugarCRM co-founder and Customer Relationship Management software entrepreneur. The company provides software and cloud hosting services for X2CRM, a next generation open source, sales management system. X2CRM has been installed on over 2,000 unique public and private cloud servers across 115 countries.
For a live demonstration, a detailed feature list and screenshot and video library please visit http://www.x2crm.com. X2CRM takes advantage of the latest open source software including Apache, PHP, MySQL and Linux (LAMP).
For more information, visit http://www.x2crm.com or email haley (at) x2crm (dot) com.