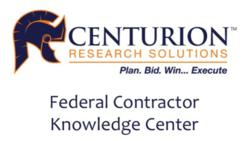 "As a leading provider of government business intelligence and analytics, Centurion is committed to helping our clients improve their business development skills and processes."- Gary P. Loyd, CEO
Chantilly, VA (PRWEB) October 17, 2012
Centurion Research Solutions has made its extensive government business development library available for free as part of its commitment to help contractors acquire the business development knowledge and processes necessary to win more federal contracts.
The Centurion knowledge center contains:
Business Development Tips - significant library of articles about a broad range of marketing, business development, capture management and proposal topics.
Business Development Training Videos - several 30 minute recordings of webinars on a variety of topics designed to help federal contractors improve their win rate.
Contractor White Papers - a bi-monthly series of in-depth reports on timely federal market and business development topics.
Small Business Pre-RFP Leads - the current month's list of new business opportunities, set-aside by the government, a type of small business acquisition, with RFPs 6 to 18 months out.
About Centurion
Centurion Research Solutions, founded in 2003, is a business intelligence and analytics company with a simple mission: offer innovative solutions that help federal contractors efficiently win more government business. To achieve this mission, Centurion has been providing online, subscription-based services, custom research and analysis, tools and methodologies, professional services and in-depth training. Industry leaders such as Alion, Northrop Grumman, SAIC, Lockheed Martin, BAE Systems, InDyne, CACI and Raytheon rely on Centurion's solutions, thought-leadership and expertise to help them identify and analyze relevant opportunities to win more government contracts.