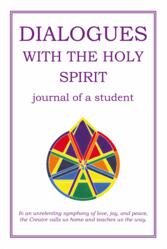 Raleigh, NC (PRWEB) October 16, 2012
Ever feel as if God isn't listening?
Rusty Stephens felt the same way. Crying out to God for support and stronger communication, he received an answer that would change his life forever. The Holy Spirit was calling, and Stephens wrote down all that followed. His new book, Dialogues with the Holy Spirit, is the result.
Stephens describes having "the tantalizing impression that somewhere just on the periphery of my vision was meaning, confirmation, validation, a vast new field of knowing, laughter, joy and great Love." Through the Holy Spirit's guidance, he was able to break through to that field of knowledge.
Developed over several years, Dialogues with the Holy Spirit provides answers to the tough questions of the universe. Interested in detecting the spirituality around him, Stephens ultimately discovered the unity of all things. This journal comes with exercises, instructions and invocations to live life with clarity and harmony. Responses to biblical passages also help reveal the hidden wisdom of the Holy Spirit.
For those who are frustrated in their own spiritual journey, Dialogues with the Holy Spirit shows how to tap into the glory of existence by using meditation, study and service. Readers will discover, alongside Stephens, the depth of the wonders of the universe.
Dialogues with the Holy Spirit
By: Rusty Stephens
ISBN: 978-1-4525-3687-3
Paperback: $16.37
Available at amazon.com, barnesandnoble.com and balboapress.com
About Rusty Stephens
Inspired to write Dialogues with the Holy Spirit after hitting a spiritual stalemate, Rusty Stephens began one of the greatest journeys of his life. Choosing the role of scribe over author, Stephens recorded the lessons he learned during this experience. Dialogues with the Holy Spirit is his first book. He lives in North Carolina with his wife.
# # #
**FOR IMMEDIATE RELEASE**
EDITORS: For review copies or interview requests, contact:
Liesl Kasdorf
lkasdorf(at)bohlsengroup(dot)com
317-602-7137
(When requesting a review copy, please provide a street address.)