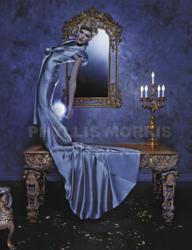 "Our new campaign was designed to tell our story to a global audience in a way we never had before." -- Jamie Adler
West Hollywood, CA (PRWEB) October 16, 2012
In preparation for its 60th anniversary in 2013, West Hollywood furniture manufacturer Phyllis Morris has launched its 2012/2013 branding campaign which celebrates the fashionable aspect of its bespoke home furnishings lines. Pairing models in haute couture gowns by Alexander McQueen and Project Runway winner Irina Shabayeva for example with select items from the company's traditional and contemporary collections brings fashion and furniture together in a seamless visual presentation – demonstrating that bespoke handcrafted furniture garners the same appeal and stature as even the most fashionable of garments from top couturiers. It was in 1953 that Ms. Phyllis Morris established the company's creed of making each piece by hand, one at a time, in Los Angeles – a way of doing business that continues to this day (a rarity in today's business climate where many U.S. furniture companies have turned largely to imported furnishings).
Like Parisian haute couture houses or suit-making shops on London's Savile Row, the Phyllis Morris company has built its reputation on handcrafting each and every item – from large, ornate beds to sofas and hand-carved chairs, desks, tables, mirror frames and more – in its Los Angeles factory where artisans carve pieces to order, while other craftsmen apply water gilded finishes using traditional, centuries-old techniques: the result being furnishings that are worthy of being passed down from generation to generation. And for more than five decades, this determination in offering only the finest in home furnishings has garnered a devoted following around the globe – and with furniture found in projects ranging from palaces to pieds-a-terre, from residential to corporate to hospitality – and all bespoke down to the last detail (the company keeps no pre-made furniture inventory in stock, thus each piece is literally made to order).
Dress-maker details, classic and trend-on materials -- faux crocodile, silk, satin and velvet -- and fashionable silhouettes are found in many of the company's upholstered pieces; finishes such as gold and silver leaf and lacquer are used to accentuate case goods (the recently revived San Remo Cocktail Table from the 1980s has now been covered entirely in 24K gold leaf, for example); and Lucite is handcrafted to become cabriole legs or octagonal bed posts on seating and bed items. And there is always a clever use of Swarovski crystals to be found – in the sofa tufting or on bed headboards or footboards, for example.
Not only is Phyllis Morris furniture made in the USA, but its line of wallcoverings, for example, is produced completely in the U.S. and its signature fabric collection is woven at U.S. mills as well. Many accessories and appointments in the company's offerings -- lampshades, embroidered pillows, acrylic accessories, to name a few -- are also made expressly for Phyllis Morris by locally-based craftspeople and businesses surrounding the company's West Hollywood showroom.