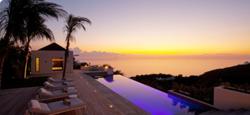 (PRWEB) October 12, 2012
The expanding Haute Hotel Network is pleased to include WIMCO Villas with its stunning array of luxurious vacation rental properties on St Barts. With almost 30 years of experience, and currently representing a portfolio of 280 hand-picked private villas, WIMCO Villas is uniquely poised to impress even the most discerning guests.
Upon arrival on St Barts, WIMCO assigns a personal concierge to each traveling party. This person is available 24/7 to answer questions, make reservations and attend to the guests needs during their stay. WIMCO's centrally-located client services office handles any and all service requests on the island including VIP airport transfers, pre-stocking the villa with groceries, breakfast delivery, boat charters, babysitting services, in-villa masseuse service, restaurant and spa reservations, private chef service and more.
WIMCO's US reservations office matches each client with the villa that best fits their unique needs, then arranges all international and local flights, and pre-books local services. A stay at one of their amazing villas is sure to be a joyously memorable experience.
About Haute Hotel Network
The Haute Hotel Network is an exclusive, invitation – only membership circle featuring a limited number of hotels and resorts from each of the top U.S. and international markets. Haute Living Network connects affluent audience with the luxury lodging and hospitality establishments selected as the finest in their specific region. Invitations to the Haute Hotel Network are only extended to hotels and resorts with exceptional amenities and a proven service record that meets only the highest standards. To learn more about the Haute Hotel Network, or view any of our amazing hotel properties follow this link: http://www.hautehotel.com/
About WIMCO Villas:
The premiere villa rental company on St Barts: with almost 30 years of experience, representing a portfolio of 280 hand-picked private villas ranging from romantic one bedroom hideaways to spacious six bedroom villas perfect for several couples, or a multi-generational vacation. WIMCO represents some of the most exclusive and stunning villas on the island, with properties situated in all of the most popular neighborhoods including Gustavia, St Jean beach, Flamands beach, Pointe Milou, Lurin and Columbier. WIMCO's centrally located client services office provides its guests with a full suite of concierge services, and their private villas offer unmatched Space, Privacy and Value.
To learn more about WIMCO Villas, check out their profile page on the Haute Hotel Network: http://www.hautehotel.com/hotel/wimco-villas/