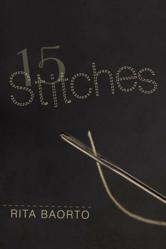 Randolph, NJ (PRWEB) October 16, 2012
Young love. Abuse. Homework. Science fiction.
These are the themes in 15 Stitches, the debut novel by young adult author Rita Baorto.
In it she shares a young women's journey as she struggles to overcome a heartbreaking traumatic event. Struggling to survive everyday, she attempts to get back to a normal life while uncovering a new mythical world.
When Keith Draykon enters Harmony Vindico's life, she learns he is far from normal and hiding a dark secret. In the midst of an ancient feud, Harmony realizes that she needs to overcome her fears in order to save the world.
Beginning the book in eighth grade, Baorto worked on the novel for over two years before finishing 15 Stitches.
"Even though it takes place in a high school setting, the book brings up many existential questions that are pertinent to society today," she says. "I want people to consider the impact that technology has on their lives and their relationship with other people."
15 Stitches
By Rita Baorto
Paperback: $15.95
Hardcover: $25.95
E-book: $3.99
ISBN: 978-1-46979-093-0
Available at: amazon.com, barnesandnoble.com and iuniverse.com.
About the author:
Rita Baorto, a junior in high school, has a passion for fantasy literature and equestrianism. She lives in New Jersey with her parents, brother and sister. This is her debut novel.
# # #
**FOR IMMEDIATE RELEASE**
EDITORS: For review copies or interview requests, contact:
Publicist: Liesl Kasdorf
lkasdorf(at)bohlsengroup(dot)com| 317.602.7137
(When requesting a review copy, please provide a street address.)