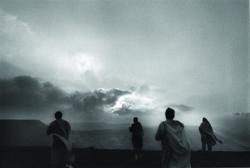 Denver, Colorado (PRWEB) October 12, 2012
Artists are invited to participate in the Mizel Museum's 2nd annual Gathering Sparks program on Sunday, November 11, 1:00 to 6:00. An art exhibition and sale, plus a live music and photography mixed media performance will celebrate the light of the winter season. This multi-faceted program will be held at Congregation Rodef Shalom, 450 S. Kearney St., Denver.
All creative, hand-made items are welcome to enter. Prospective artists should send two to three files that are representative of their work to gkolber(at)mizelmuseum(dot)org. The deadline to enter is Saturday, November 20. Recommended pricing for art sale is $20 to $400.
Chosen participants must be Artist Members of the Mizel Museum and purchase a Membership/Jury Fee package for $48 (annual membership is $36 and includes free admission to specified programs, program discounts and member appreciation event.) Existing members pay only the Jury Fee of $18. Payments are due by November 1, 2012.
About the Mizel Museum
The Mizel Museum is a portal to the contemporary Jewish experience. Exhibits, events and educational programs offer interactive experiences that promote community, understanding and multiculturalism. The Museum is located at 400 S. Kearney Street, Denver, where visitors can tour the new permanent exhibit, 4,000 Year Road Trip: Gathering Sparks, a dynamic journey through art, artifacts and digital media that narrates and illuminates Jewish history and culture. For more information visit http://www.mizelmuseum.org or call 303-394-9993.