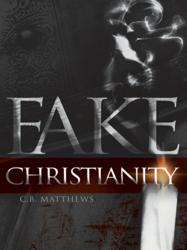 Alamosa, CO (PRWEB) October 16, 2012
According to C.B. Matthews, there are many lies being swallowed and followed in Christianity today.
In his new book, he highlights the spiritual warfare facing religion today.
Fake Christianity by C.B. Matthews is a call to action for Christians who desire to learn the appropriate ways to think, feel, act and believe in today's world. Shining a light on the issues of society, it will guide readers to understand what is lacking in the majority of Christian people and alert them to the spiritual war they are inevitably participating in.
Matthews hopes the book will be viewed as a as hard-hitting and convicting challenge to Christians today. The book serves as the ultimate guide to understanding the cultural decay of society and how the church lacks the knowledge of God. By reviewing the lies often believed by Christians, the book will teach readers how to reverse their corrupt thought process and stand firm in God's truth.
Felt compelled by God to write this book, it took Matthews years to put these thoughts into words.
"I feel that this book is for any Christian searching out how to live their lives in a God-pleasing manner, from someone who has went through a great deal in his life from God's own disciplining hand and my own sinful choices."
Fake Christianity
By: C.B. Matthews
ISBN: 978-1-44973-692-7
Paperback: $13.99, Hardcover $30.99, E-book $3.99
Available at amazon.com, barnesandnoble.com and westbowpress.com
About C.B. Matthews
C.B. Matthews holds a bachelor's degree in psychology, a master's degree in marriage and family counseling and took additional course work in Christian education from Southwestern Baptist Theological Seminary. Formerly from Oklahoma, Matthews now resides in the San Luis Valley, Colorado and enjoys hiking, swimming, and skiing with his wife and their three children.
# # #
**FOR IMMEDIATE RELEASE**
EDITORS: For review copies or interview requests, contact:
Liesl Kasdorf
lkasdorf(at)bohlsengroup(dot)com
317-602-7137
(When requesting a review copy, please provide a street address.)