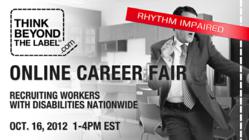 "The Think Beyond the Label Online Career Fair is a valuable resource for businesses looking to build a pipeline of qualified candidates." —Barbara Otto, principal of Think Beyond the Label
Chicago, Il. (PRWEB) October 12, 2012
Several Fortune 500s, including Boeing, AT&T and The Hartford, among other organizations, will participate in the inaugural Think Beyond the Label Online Career Fair to showcase their commitment to hiring qualified workers with disabilities nationwide during National Disability Employment Awareness Month.
Powered by Brazen Careerist, the Think Beyond the Label Online Career Fair will be held on October 16 from 1 pm to 4 pm EDT. Other organizations participating in the fair include the Oregon Department of Human Services, Pearson and Union Pacific.
"We value diversity at The Hartford and respect the unique characteristics, skills and experiences our employees bring to the workplace," says Lori Rodden, vice president of talent acquisition and management at The Hartford. "We focus on abilities rather than limitations. We look forward to meeting with job seekers to see what skills and experience they may bring to The Hartford."
The Think Beyond the Label Online Career Fair will provide a unique and accessible forum and experience for employers to engage in real time with registered participants from Think Beyond the Label's 3,500-plus member community. Job seekers can participate in the Think Beyond the Label Online Career Fair for free. Register for the career fair. Employers nationwide are also invited to participate. Employers register here.
"We are thrilled to be working with thought leaders in the business community that really 'get' how to attract and retain talent," says Barbara Otto, Principal of Think Beyond the Label and CEO of Health & Disability Advocates. "Given that one of out every five Americans has a disability, the Think Beyond the Label Online Career Fair is a valuable resource for businesses looking to build a pipeline of qualified candidates to meet their workplace diversity needs."
About Think Beyond the Label
Think Beyond the Label is a private-public collaborative that helps businesses and the public workforce system more effectively recruit, hire and retain job seekers with disabilities across 50 states. Our partnership spans state health and human service and employment agencies; businesses; and Health & Disability Advocates, a national private nonprofit organization that manages the Think Beyond the Label partnership. For more information please go to http://www.thinkbeyondthelabel.com.